Chris Christie Discusses Wife's Departure From Wall Street Job
The likely presidential candidate's travel has made him "less able to be involved" with their family, he says.
By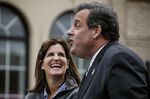 New Jersey Governor Chris Christie's wife, Mary Pat Christie, resigned from her Wall Street job because of "the demands of our life," he said during his monthly radio call-in-program.
Travel, including four days this month in early-primary New Hampshire, has made him "less able to be involved" with their family, said Christie, a 52-year-old Republican who is considering a 2016 presidential run.
"The demands of our life have become different," he told program host Eric Scott during an hourlong interview on WKXW-FM radio. His wife will now be able to spend more time with him and their children, two of whom are in college and two who are still at home, Christie said.
Mary Pat Christie, 51, is the family breadwinner, and her wages as a managing director of the New York-based investment firm Angelo, Gordon & Co. accounted for most of the $700,000 of earnings reported in the couple's 2013 tax return. The governor is paid $175,000.
"I don't feel wealthy," Christie said of his family's income, revisiting a topic that arose in New Hampshire. "There are a lot of people significantly better off than me and Mary Pat."
Heidi Cruz, the wife of Republican Texas Senator Ted Cruz, who announced in March he's running for president, is taking leave as a Houston-based managing director at Goldman Sachs Group Inc. to help with her husband's campaign. Chris Christie said he will announce whether he's running in May or June.