China Races to Rescue Hundreds Trapped in Dam Damaged in Nepal
Ting Shi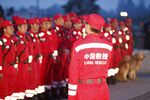 Chinese authorities raced to rescue more than 250 workers trapped in a dam in the mountainous terrain of northern Nepal before they run out of food.
The Chinese-backed Rasuwagadhi Hydropower station was "severely damaged" in the 7.8-magnitude earthquake that struck on April 25, according to state-owned China Three Gorges Co., the country's largest hydro-electric company. All roads to the dam are cut off, it said in a statement.
The trapped workers have enough food to last only two more days, the company said, adding that two employees were killed in the quake and several others are injured. China is seeking to rescue them with the involvement of the regional government of Tibet and the People's Liberation Army's Chengdu Command, according to the statement.
More than 4,300 people have been killed in Nepal's worst earthquake in eight decades. China has invested billions to harness its southern neighbor's vast hydropower resources, a major component of the increasing Chinese financial assistance to the poor mountainous country.
Rasuwagadhi, located about 67.5 kilometers from the quake epicenter, is one of three dams in Nepal being built by Three Gorges Corp., according to the company's website. It will have a capacity of 111 megawatts when complete, the company said.
No deaths or damage was reported on the company's other two dams in Nepal.
Before it's here, it's on the Bloomberg Terminal.
LEARN MORE