Tories Open Surprise Lead in Ashcroft Poll as UKIP Is Squeezed
Tom Beardsworth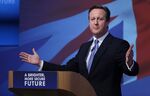 The Conservatives opened up a six-point lead over the Labour opposition in one opinion poll, as surveys showed the U.K. Independence Party is struggling to attain first-place status in its top target seats.
The Ashcroft poll on Monday put Prime Minister David Cameron's Tories at 36 percent and Ed Miliband's Labour Party at 30 percent. Each had a 3-point lead in two separate polls published earlier.
With the U.K. election campaign in its final 10 days, polls have consistently indicated that neither Labour nor the Tories will win enough parliamentary seats to govern without the support of smaller parties. In 2010, a seven-point win by the Conservatives over Labour still left Cameron short of a majority.
An ICM poll for the Guardian newspaper earlier gave the Tories a 3 percentage-point lead, while a Populus poll for the Financial Times put Labour 3 points ahead.
Since the start of April, Michael Ashcroft's constituency-level polling has shown that UKIP support is falling in their target seats. UKIP remains a competitor in the four parliamentary districts polled by Ashcroft, three held by the Tories and one by Labour. Its support has fallen back in three of them.
That means Nigel Farage's party, which won the most U.K. seats in the European Union parliament in May last year, will probably fail to translate its support nationally into more than a few seats in the House of Commons.
Cameron Pledge
A separate set of Ashcroft polls on Saturday suggested that the Conservatives would win back the Rochester and Strood seat, which fell to Mark Reckless in a special election in November after he defected to UKIP. It also forecast UKIP would gain the coastal district of Thurrock from the Conservatives.
"I'm going to work the hardest I've ever worked in my life," Cameron said at a campaign stop in central London on Monday. For the past two weeks the Tories have focused on alerting voters to the alleged dangers of a Labour government supported by the separatist Scottish National Party. Now Cameron will focus on the economy "to the exclusion of everything else," he said in a Sky News interview Sunday.
There has been little change in people's preference of prime minister over the course of the campaign, Ashcroft said. Cameron's approval rating has increased slightly since February, he said in a blog post, though a larger share of those dissatisfied with Cameron said they now prefer Miliband.
Before it's here, it's on the Bloomberg Terminal.
LEARN MORE