Strange Bedfellows Obama, Ryan Agree China Fear Sells Trade Deal
Mike Dorning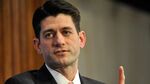 President Barack Obama doesn't agree on much with Paul Ryan, one of his main Republican antagonists in Congress.
They do concur on one thing: fear of China's rise will help sell the U.S. public on a trade deal with Asian nations.
Democrat Obama and Republican Ryan, often at odds over the six years Obama's been in office, are on the same side when it comes to trade. Both are trying to build support for legislation that would give the president fast-track authority to finish negotiations on the Trans-Pacific Partnership.
As the trade talks have ground on in recent years, Obama has repeatedly invoked China when talking to U.S. audiences about the need to complete the deal. He did so again Monday in an interview with the Wall Street Journal.
"If we don't write the rules, China will write the rules out in that region," Obama said. "We will be shut out -- American businesses and American agriculture. That will mean a loss of U.S. jobs."
Representative Ryan, the 2012 Republican vice presidential candidate, has taken to echoing the argument.
"The rules of the global economy are being rewritten right now," Ryan, of Wisconsin, said in an April 22 interview with CNBC. "I would strongly argue if we sit by and do nothing, then China will write the rules of the global economy, particularly in Asia, to China's benefit. And that won't be to the benefit of the American worker."
Even their target audience is the same. The biggest obstacle for Obama has been his fellow Democrats.