Rand Paul Talks Saddam Hussein, Iran, and Anti-Semitism with Jewish Leaders
The candidate takes questions on the Iran deal, school choice, and negative portrayals of his relationship with the Jewish community.
By and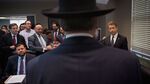 He didn't make it to this weekend's Las Vegas conference of Jewish Republicans, but he made it to Brooklyn. On Monday, in a small conference room at the National Society for Hebrew Day School's headquarters, Kentucky Senator and Republican presidential candidate Rand Paul was grilled by members of the Orthodox community. He was given a chance to clarify not just his positions, but his reputation as an isolationist and, as one attendee put it, an anti-Semite.