Obama Gives Japan's Abe an Impromptu Tour of Lincoln Memorial
Angela Greiling Keane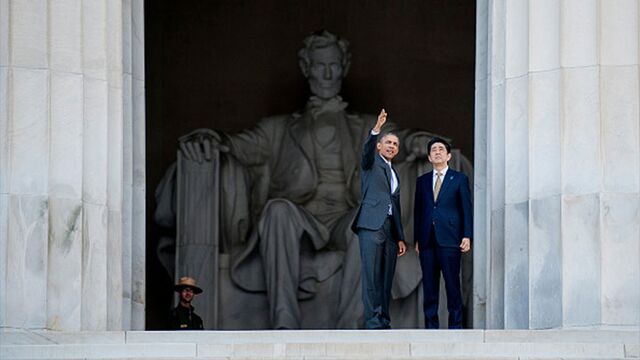 President Barack Obama and Japanese Prime Minister Shinzo Abe sprung a surprise on tourists in Washington Monday with an unannounced trip to the Lincoln Memorial.
Shortly after Abe arrived in the capital, the two leaders jumped into a motorcade for the short trip from the White House to the memorial to the 16th U.S. president, Abraham Lincoln, which sits on the western end of the National Mall, adjacent to the Potomac River.
Obama escorted Abe up the center of the memorial steps, which had been cleared of tourists. Obama gestured toward the Mall as they got to the top.
Taking foreign dignitaries on the tourist route may be emerging as an Obama signature move. Last year, he took Indian Prime Minister Narendra Modi to the Martin Luther King Jr. Memorial, situated just south of the Mall.
Abe, who is staying at Blair House, the guest residence across Pennsylvania Avenue from the White House, will get a more formal official arrival ceremony Tuesday morning and a state dinner Tuesday night.
Before it's here, it's on the Bloomberg Terminal.
LEARN MORE