New Transnet CEO Sees Debt Deals Soon to Avoid U.S. Rates Risk
Andre Janse van Vuuren and Eleni Giokos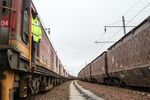 The risk of higher U.S. interest rates will prompt South African state-owned rail and ports operator Transnet SOC Ltd. to conclude debt sales as early in the new fiscal year as possible, its chief executive officer said.
"We need to act with some speed," Siyabonga Gama, appointed on April 20 after Brian Molefe was seconded to power utility Eskom Holdings SOC Ltd., said in an interview with Bloomberg TV Africa that will be broadcast May 1. When "you look at what's happening in the U.S., I think there are some concerns" that rates will increase, he said. While the company will disclose borrowing needs when reporting results in June, it will probably sell debt soon, Gama said.
Tighter U.S. monetary policy would curb demand for riskier, emerging-market assets including South African debt. The latest Bloomberg survey shows 71 percent of participating economists expect the Federal Reserve to raise rates from near zero in September. The Fed has ruled out an increase when it meets Tuesday and Wednesday, while doubts about the U.S. economic outlook diluted speculation it would act as soon as June.
Transnet is in the third year of a seven-year, 312.2 billion-rand ($25.6 billion) plan to increase South Africa's rail and port capacity, and funds about a third of capital spending from borrowings and the rest from cash flow. The company will target South African and offshore debt markets, where it sold the country's first rand-denominated foreign bond in 2013, Gama said.
Yield Increase
Yields on the company's $1 billion notes due July 2022 have risen 29 basis points to 4.54 percent since reaching a 2015 low on Feb. 5, compared with a 16 basis-point decline in emerging-market utilities debt tracked by JPMorgan Chase & Co. indexes.
Higher U.S. rates aren't the only concern for emerging-market bond issuers looking to sell notes overseas.
South Africa's rand reached a 13-year low against the dollar on March 12 and has declined 3.2 percent in the past month, making it the worst performer among 16 major currencies tracked by Bloomberg. That raises the cost of servicing debt obtained outside the nation, said Abri du Plessis, a credit analyst at Gryphon Asset Management, which holds Transnet bonds.
"Offshore borrowers would be keen to finalize their dealings as soon as possible, but the decision will be more complex than what is happening with interest rates," Du Plessis said by phone on April 24 from Cape Town. "You have to cover yourself for currency movements because you pay your interest in that foreign currency."
Price Drop
Transnet Freight Rail is the company's biggest unit, moving commodities such as coal and iron ore from mines to ports in the country that's the largest supplier in Africa of both products.
The operator is committed to its upgrade program despite a 30 percent plunge in the price of coal shipped from South Africa's Richards Bay over the past year and a 51 percent drop in iron-ore prices, Gama said.
"We cannot be myopic to look at the short term and look at things in peaks and troughs," he said. "When there is a commodity boom, which is going to happen, we need to make sure that we've got the infrastructure in place."
Gama is taking over from Molefe, who has been moved to power utility Eskom to help tackle supply shortages and a cashflow gap of about 225 billion rand.
The electricity company is South Africa's biggest debt issuer, and investors are watching the government's companies "more closely at the moment given what's going on," Richard Klotnick, a fixed-income portfolio manager at Momentum Asset Management, said by phone on April 24. "Some people are just trying to understand what the correct or appropriate price is for them."
Transnet's balance sheet is strong enough to withstand buyers' concerns over external factors, Gama said. "We're not terribly concerned because as Transnet our balance sheet remains strong," he said. "On that basis, we are able to play in the bond market."
Before it's here, it's on the Bloomberg Terminal.
LEARN MORE