NBA Big Feet to Wear Stance as Socks Draw $5.6 Billion in Sales
Scott Soshnick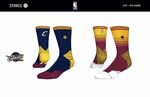 The National Basketball Association signed a multiyear contract with sock manufacturer Stance Inc., which in a league first will be allowed to puts its logo on game-worn socks.
Financial terms of the agreement weren't disclosed by the league or company, which will become the NBA's official on-court performance sock provider beginning next season as it seeks more of what one research company says is a $5.6 billion global market.
Lisa Piken Koper, the NBA's vice president of licensing, said the league has generated triple-digit growth in the sock category over the last few years, declining to give specifics. Allowing the Stance logo makes sense because Commissioner Adam Silver has said uniform advertisements are inevitable. The NBA considers socks an accessory to the uniform, which is the jersey and shorts.
"This is a direction that we will be going in the future," Piken Koper said. "We thought Stance was a great place to start."
John Wilson, the founder and president of closely held Stance, said the NBA is a perfect partner because of its mix of sport, lifestyle and culture.
"When you look at the NBA, their position is very similar," said Wilson, whose company refers to its endorsers as Punks & Poets. "Of course it's rooted in the sport of basketball, but when you look at the lifestyle and culture around basketball, as it relates to music, fashion, sneakers -- there's a cultural element to the NBA that's very unique."
Miami's Dwyane Wade, Detroit's Andre Drummond, Golden State's Klay Thompson and Dallas's Chandler Parsons are Stance's NBA endorsers.
Sock Choices
Wilson said Stance officials are "besides themselves" that the company logo will appear on players' socks during games. Teams will have a number of sock choices, including solid white and black and what Wilson described as custom color waves and designs that tie back to a team's uniform and logo.
"It's not just a vanilla, here's a white sock," Wilson said. "That will allow for more individuality."
Stance will also create specialty socks for NBA-created events that revolve around, for instance, Black History Month. The company will also create one-time collections for Christmas games and the All-Star game, Wilson said.
Stance, which also has a Major League Baseball team collection, replaces For Bare Feet Inc. as the league's socks supplier. Stance's basketball offerings include a line that features legends, too, including Larry Bird, Wilt Chamberlain and Allen Iverson.
The socks category outpaced the overall apparel market from September 2013-August 2014, growing 2 percent, according to NPD Group. The U.S. sock market is $1.8 billion, according to researcher SportsOneSource.
"Athletic socks have come a long way," said Neil Schwartz, vice president of market insights for SportsOneSource. "This ain't your father's cotton tube socks."
Before it's here, it's on the Bloomberg Terminal.
LEARN MORE