Merkel Vows to Assist Probe Into German Aid for U.S. Spying
Patrick Donahue and Arne Delfs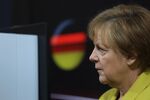 Chancellor Angela Merkel pledged to cooperate with a probe into accusations of German collusion with U.S. spying after a report that her office had been briefed on National Security Agency activity as early as 2008.
The German leader repeated that the chancellery had identified "deficiencies" in Germany's Foreign Intelligence Service, or BND, following a report last week that the NSA had exploited its network to spy on friendly targets in Europe.
Merkel said she'll assist parliamentary committees in Berlin that oversee intelligence, one of which is conducting an investigation into the NSA's activities and Germany's involvement following the 2013 disclosures by former NSA contractor Edward Snowden.
"Now it will involve clarifying the matter comprehensively," Merkel told reporters in Warsaw on Monday after meeting with Polish Prime Minister Ewa Kopacz.
Merkel's office vowed on Thursday to take action after Spiegel Online reported that the NSA had fed German intelligence search data, or "selectors," with which it sought to intercept communications through the BND network.
The selectors, including data such as IP addresses and mobile phone numbers, were discovered to include targets such as European Aeronautic, Defense & Space Co., EADS unit Eurocopter and French officials, Spiegel reported. Such targets violated a German-U.S. spy pact that focused on terror suspects.
A top-secret document detailing the activity, which the government turned over to the investigative committee last year, had emerged in the chancellery in 2008, government spokeswoman Christiane Wirtz said on Monday.
Industrial Espionage
Questions arose of who in the chancellery knew about BND involvement, which possibly entails actions that have been denied by the German government, such as spying on friendly nations and industrial espionage.
"At this point, the issue of personnel consequences hasn't arisen," Wirtz told reporters on Monday.
Following disclosures of NSA mass surveillance, including reports of tapping Merkel's mobile phone, as well as a suspected double agent working for the U.S., her government has struggled to negotiate a new agreement on cooperation with the U.S.
Before it's here, it's on the Bloomberg Terminal.
LEARN MORE