Asean to Keep Non-Confrontational Approach on South China Sea
Manirajan Ramasamy and Chong Pooi Koon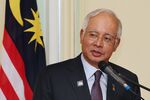 Southeast Asian nations will keep a non-confrontational approach with China over the South China Sea while seeking an "expeditious resolution" of a Code of Conduct for the waterway, Malaysian Prime Minister Najib Razak said.
The region's approach has been "very effective" in ensuring there's no tension with China, Najib told reporters in Kuala Lumpur Monday in his capacity as chairman of the Association of Southeast Asian Nations. His comments came even as Philippine President Benigno Aquino told other Asean leaders today that massive land reclamation by China poses a threat to security and stability in the region and to the freedom of global commerce and navigation.
Disputes have escalated as China asserts claims to sovereignty over about four-fifths of the sea according to a so-called nine-dash line map it drew in the 1940s. China is expanding the reach of its military to back its territorial interests, challenging decades of U.S. naval dominance in the Pacific. The tensions risk overshadowing its trade and investment ties with Southeast Asia.
"We will continue to engage China in a constructive way and China understands our position," Najib said. "We hope to be able to influence China that it is also to their interest not to be seen as confronting Asean, and any attempt to destabilize this region will not benefit China either."
Land Reclamation
Respect for international law must be the basis of rules of engagement and activities in the South China Sea, Najib said Monday at a time of rising tensions over the the waters hosting some of the busiest shipping lanes. He didn't elaborate on incidents that have strained relations with China.
Philippine Foreign Affairs Secretary Albert del Rosario told his Asean counterparts Sunday that the region needs to stand up to China on its reclamations. Threats posed by China's creation of artificial islands are real and cannot be ignored as it is "clearly and quickly advancing" reclamations and is poised to "consolidate de facto control" of the South China Sea, he said.
"Is it not time for Asean to say to our northern neighbor that what it is doing is wrong and that the massive reclamations must be immediately stopped?" del Rosario said. "On this most important issue, is it not time for Asean to finally stand up for what is right?"
Combined Patrols
Southeast Asia nations should form a combined maritime force to patrol the South China Sea, Vice Admiral Robert Thomas, commander of the U.S. Navy Seventh Fleet, said on March 17.
China's actions have have riled neighbors such as Vietnam and the Philippines who also claim some of the waters. It agreed to talks with Asean over a code of conduct for the South China Sea in July 2013, but little progress has been made. The government in Beijing signed a non-binding declaration of conduct in 2002, which calls on parties to refrain from "inhabiting on the presently uninhabited islands, reefs, shoals, cays and other features."
The Asean and China joint working group on the Code of Conduct will meet for more talks in Thailand in May, Bernama news agency reported, citing Thai Foreign Minister Tanasak Patimapragorn.
China has repeatedly stated it has the right to carry out construction work in the South China Sea, with recent satellite photos showing images of Chinese dredgers at work at Mischief Reef in the Spratly Islands, a feature also claimed by Vietnam, the Philippines and Taiwan.
Overlapping Claims
Asean needs to manage its own overlapping maritime claims without increasing tensions, Najib said Monday.
"An Asean characterized by internal conflicts could never aspire to be a true community," he said. "To be a community, we must address internal conflicts within our region."
The 10 members of the group are seeking to implement the Asean Economic Community by the end of the year. Officials are working to allow free movement of goods, services, investment, capital and skilled labor as part of a European Union-style integration plan, without a common currency.
Asean's combined gross domestic product is forecast to rise to $4 trillion in five years, from $2.5 trillion now, Najib said. Removing barriers to trade goes beyond reducing tariffs, he said.
"It must also include the elimination of non-tariff barriers, such as overly burdensome regulation that hampers free and fair trade," Najib said. "We must accelerate programs to harmonize standards, increasing capital market and financial integration."
Before it's here, it's on the Bloomberg Terminal.
LEARN MORE