Food
Lamb: The Other Red Meat That's Becoming a Restaurant Craze
From a 7-hour confit in London to lamb tartare under Manhattan's High Line Park, here's where to get the meat of the moment
By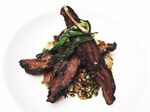 From the March 2015 edition of Reserve, a Bloomberg Brief publication. 
If it's spring, it must be time for lamb. Right? In truth, lamb is traditionally ready for market in the fall. Still, why break with tradition or sentiment? It's like telling your kids there's no Easter bunny. Happily, lamb is enjoying a renaissance in America, where consumption is dwarfed by beef eaters. Chefs are finding new ways to lure diners to the international appeal of lamb. In London, it has fortunately never gone out of style. Here are some of my favorites:
London
Tom's Kitchen: Tom Aikens' signature dish, a seven-hour confit lamb, is worth the fuss. He uses lamb shoulder instead of the shank (like the famous one at Ouest on New York's Upper West Side).
Gymkhana: Go for the lamb nalli barra, chops and shank marinated in turmeric and ginger, or the kid goat methi keema, minced meat eaten with buns.
Launceston Place: Salt marsh lamb is on the menu at this clubby spot in Kensington. That means the meat tastes of the seaside grass the animal eats.
Cafe Murano: Angela Hartnett has a way with lamb, either in her lamb ragu over pappardelle, or best of all, as my dream preparation: the rump, grilled and served with a ragu of flageolet beans.
New York

Tulsi: If you were scared of sheep as a child, this is the place to try again. Hemant Mathur makes lamb rib chops caked in yogurt that melt in your mouth.
The Breslin: April Bloomfield's lamb burger is a thing of beauty. Nestled on a sourdough bun, topped with feta cheese, and I add a dollop of cumin mayo.
Santina: Under the High Line at the new Whitney Museum is the best new lamb dish I've tasted. Don't miss Mario Carbone's lamb tartare wrapped in a crisp cecina pancake doused in salsa verde.
Babbo: Leave it to Mario Batali — a chef who got famous making "Mint Love Letters" filled with spicy lamb — to up the game with lamb belly "alla Piastra." Yes, just like pork belly, but lamb. Sensational.
Before it's here, it's on the Bloomberg Terminal.
LEARN MORE