Junk Bond Market's Membership Privileges Are Worth a Fortune Now
Lisa Abramowicz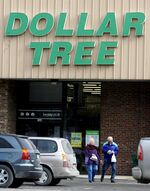 Here's a quick way for credit investors to earn billions of dollars this year: simply buy pieces of the largest new junk-bond sales, then sell them for a profit.
It's been a seemingly easy formula of late.
Bonds issued recently by companies ranging from Valeant Pharmaceuticals International Inc. to Dollar Tree Inc. have gained more in value than the U.S. high-yield bond market on average. The only obstacle is winning the chance to purchase the new sales directly, and that can prove to be a significant hurdle, because the largest, most-active investment firms usually have first dibs.
For those lucky enough to get a seat at the table, the financial rewards have been hefty at a time of historically low bond yields around the world. Almost $10 billion of bonds sold by drugmaker Valeant have increased in value by about $345.5 million since their issuance last month, according to data compiled by Bloomberg and Trace, the industry's price-reporting system.
The market value for $3.25 billion of Dollar Tree Inc. notes sold in February have since risen by about $180 million.
And then there's Fortescue Metals Group Ltd.'s $2.3 billion bond sale last week.
Instant Gain
A month after the Australian miner aborted a bond offering as a commodities slump spooked potential buyers, Franklin Resources Inc. and Capital Group Cos. helped lure the iron-ore producer back to the market by agreeing to buy most of a $1.1 billion chunk of securities. Those notes gained $63 million in just two days.
On one hand, these pioneering firms may be taking a substantial risk, and are just being rewarded for that. There have been times, such as when Apple Inc. sold its $17 billion investment-grade offering in April 2013, that prices on corporate debt have gone down after their issuance. Investors in that deal lost $281 million of market value within the first three weeks.
On the other hand, it's been a pretty solid bet of late.
Prices on dollar-denominated high-yield debt have gained 1.7 percent on average this year, fueled by both a rebounding oil market and faith that the Federal Reserve won't hike interest rates all that soon or all that quickly.
While the early mover advantage is nothing new in financial markets -- whether it's debt or an initial public offering of shares -- the competition to get in on the primary sale has intensified amid record-low yields.
Investors have piled $13.2 billion into U.S. high-yield bond funds this year, according to Bank of America Corp. data. And at 6.3 percent on average, junk bonds look pretty attractive compared with the $3 trillion of European sovereign bonds with negative yields.
Yes, junk bonds have done pretty well this year, but the real money has been made on new sales, and that's the domain for the most part of the country's biggest investment firms.
Before it's here, it's on the Bloomberg Terminal.
LEARN MORE