JD.Com Rises to Record as Chinese E-Commerce Stocks Gain in U.S.
Elena Popina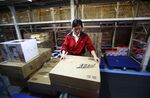 JD.com Inc. jumped to a record as Chinese e-commerce companies advanced in New York amid speculation they'll continue to benefit from growth in online sales in the country.
The American depositary receipts rose 1.6 percent to $35.28, pushing the rally since the company's U.S. debut in May to 86 percent. Online fashion retailer Vipshop Holdings Ltd. advanced 3 percent to $29.81. China Cord Blood Corp. fell the most in three weeks after it received an offer to go private below its April 24 closing price. The Bloomberg China-US Equity Index climbed 1.1 percent.
Total buy ratings on JD.com, China's second-biggest e-commerce operator, reached an all-time high of 19 on Monday after JPMorgan Chase & Co. initiated coverage and set a price target implying a potential 21 percent gain from Friday's close. The number of Chinese Internet users has grown to 649 million, more than twice the population of the U.S., and could exceed 850 million by 2015, government data show.
"At a time when e-commerce is the fastest-growing segment within the Internet space in China, investors are right there willing to reap profits," Ella Ji, a senior analyst at Oppenheimer & Co., said by phone from New York on Monday. "JD.com is a name that many investors associate growth with as they believe that a growing customer base and solid logistics will lead to a jump in revenue."
Ji rates JD.com buy and forecasts a 45 percent increase in revenue this year as the company expands its customer base.
JD.com follows a model similar to Amazon.com Inc. in which the company manages inventory and sells products such as home appliances, books and clothes directly to consumers.
Equity Rally
The Beijing-based e-commerce provider which sells goods from microwaves to sneakers to getaway tours, last month reported revenue of 34.7 billion yuan ($5.6 billion) in the fourth quarter, topping the 32.9 billion yuan average of analysts' estimates, according to data compiled by Bloomberg. The online retailer also issued a forecast for first-quarter sales that surpassed projections.
Chinese equities have been the best performers globally this year as policy makers increased monetary stimulus to shore up growth. The rally comes as the world's second-largest economy expanded at the weakest pace since 2009 last quarter, with output and investment data pointing to a deepening slowdown, according to data released by the statistics bureau in Beijing on April 15. Retail sales growth slowed to 10.2 percent year-over-year in March compared with 11.9 percent in December.
China Cord
The Bloomberg gauge of U.S.-traded Chinese stocks advanced to 131.05, a record high. The gain came after stocks in Shanghai rose the most in three months amid speculation the government is considering merging state-owned enterprises and taking more steps to support economic growth.
China Cord Blood slid 7.1 percent to $6.71 as the company said it will form a special committee to consider Golden Meditech Holdings Ltd.'s offer to take the company private at $6.40 per share.
JD.com's sales will probably grow 52 percent this year, according to the average of analyst estimates compiled by Bloomberg.
"China's Internet and e-commerce names have a great potential now that the government is trying to shift the economy to make it more consumer-oriented," Brendan Ahern, chief investment officer of Krane Fund Advisors LLC in New York, said by phone on Monday. "I don't expect the attention to China's e-commerce sector to fade any time soon."
Before it's here, it's on the Bloomberg Terminal.
LEARN MORE