Iran Bans Women's Magazine for Backing Unmarried Households
Ladane Nasseri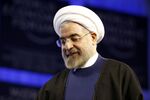 A women's magazine that featured couples living together outside marriage has been banned by Iranian authorities, as conservatives challenge moves to relax social restrictions championed by reformist politicians.
The media watchdog outlawed publication of Zanan Emrooz, or Today's Women, for justifying a "phenomenon that violates national and religious values," Mehr news agency reported. The case was referred to the judiciary, it said, a body that's stacked with hardline opponents of President Hassan Rouhani.
The magazine had carried a cover photograph of a young couple coming back from grocery shopping with the headline: "White marriage: a pain or a cure?" In Iran, white marriage is used to describe living together out of wedlock.
That's something an increasing number of young Iranians are resorting to, according to a February report in the Tehran-based Donya-Eghtesad newspaper. High youth unemployment, which tops 50 percent for female university graduates, and expensive rents have led couples to put off marriage and having families, the paper said.
Since taking office in 2013, Rouhani has succeeded in easing the country's economic isolation over its nuclear program. But he has faced stiff headwinds in his efforts to end some of the Islamic Republic's restrictive laws on personal conduct, which opponents see as an attack on religious rule.
Parts of the Iranian media responded to Rouhani's election with sustained coverage of areas previously deemed taboo, including the impact of nuclear sanctions on the economy and potential overtures to the West. Openly discussing some cultural issues has been more problematic.
Papers Shut
At least two reformist newspapers were closed last year, and the judiciary has warned the media against publishing "images or statements" of former President Mohammad Khatami, who has called for greater openness in society and has fallen out of favor with the clerical establishment.
Zanan Emrooz was launched by Editor-in-Chief Shahla Sherkatin in May 2014 to discuss "issues and challenges of Iranian women," according to its website. Last month's issues featured a man putting on pink dish-washing gloves while carrying a baby, with the headline: "The emergence of the new dads."
Its predecessor, simply called Zanan, was shut in 2008 under former President Mahmoud Ahmadinejad over accusations it was portraying women's lives in a "dark light."
Sex outside marriage is illegal in Iran, where officials of the cleric-led administration portray legal unions as a means of preserving the nation's moral fabric. A rising divorce rate and a trend toward marrying later have alarmed conservatives.
Before it's here, it's on the Bloomberg Terminal.
LEARN MORE