In Argentina, $5 Billion of Mine Projects Is Riding on Elections
Pablo Gonzalez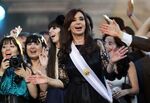 Some of the world's biggest miners are ready to spend at least $5 billion in Argentina if October's presidential elections herald an easing of capital restrictions.
Goldcorp Inc., the largest gold miner by market value, billionaire Ivan Glasenberg's Glencore Plc and Yamana Gold Inc. are among producers signaling new investments in the country if the next government is more receptive to the industry, according to the country's mining association and provincial and company officials briefed on the matter.
President Cristina Fernandez de Kirchner restricted imports and repatriated export revenue since she was re-elected in 2011. She created currency controls that hurt international mining companies and led Brazil's Vale SA to cancel a $5.9 billion potash project in the country. The main presidential candidates appear more amenable to luring foreign investment, according to Martin Dedeu, president of the Argentine Mining Chamber. Fernandez isn't allowed to seek a third term.
"The three leading candidates are convinced about the importance of the industry," Dedeu said by telephone from Buenos Aires. "Daniel Scioli has said mining should be an engine for the economy, Mauricio Macri has been consistent in his support and Sergio Massa has said the sector deserves attention."
Dedeu, who has met all the candidates, said the next president probably will lower mining taxes and gradually reduce currency controls including a ban on dividends going offshore.
Pachon Study
Jorge Mayoral, Argentina's federal mining secretary, wasn't available to comment, an assistant said by phone.
Ricardo Morales Delgado, Scioli's spokesman, didn't reply to calls seeking comment. Mauricio Macri is in favor of sustainable mining operations, his spokesman said in a phone interview. Claudio Ambrosini, Massa's spokesman, had no immediate comment when contacted by telephone.
In San Juan province, Glencore is considering a $3 billion investment to double copper production in Argentina over three years, according to a company official.
The proposal at El Pachon, 2,682 meters (8,799 feet) above sea level, was unveiled to San Juan's provincial governor in a meeting on April 14 by Telis Mistakid, Glencore's head of copper mining and trading, said a Glencore official, who asked not to be named because the meeting and talks were private.
Currency Controls
The Baar, Switzerland-based company will file an environmental impact study in the fourth quarter, with permitting approval expected in 2016, at which time the new president will be in office, the official said. While taxes on mining are less than the 35 percent that some soybean exporters pay, the capital and currency restrictions pose challenges. Companies can wait months for federal government permission to import a single truck part, the official said.
Charles Watenphul, Glencore's spokesman, had no immediate comment when contacted by telephone in London.
El Pachon is scheduled to reach full production in 2018, when analysts expect copper prices to recover. Prices are about 40 percent below the record set in 2011.
Argentina's second-largest mining project has similar timing. Yamana said Feb. 2 that it will invest $398 million in Cerro Moro, a gold and silver mine in Santa Cruz province. About $30 million will be spent later this year, when formal groundbreaking for construction is scheduled. The rest will be spent in 2016 and 2017, with production poised to begin in the second half of 2017, the Toronto-based company has said.
Construction won't start unless federal regulations are changed including currency controls and repatriation of export revenue, a provincial mining department official said, asking not be named in line with departmental policy.
Marcelo Agulles, a Yamana spokesman in Argentina, said the company's plans are firm under current Argentine regulation, and may be halted if gold or silver prices slump. He spoke in a phone interview from San Juan.
Capital Flight
Three provincial mining officials interviewed by Bloomberg said federal regulatory changes are expected by the 10 provinces that own resources as their income has fallen since October 2011, when Fernandez ordered mining companies to repatriate all export revenue and companies cut investments.
That month, the federal government, seeking to stem accelerating capital flight from South America's biggest economy after Brazil, changed a 2002 decree requiring companies to keep 30 percent of their export revenue in the country, a move the mining provinces would like reverted.
Some provinces rely on mining taxes to finance more than half of their budgets. Catamarca, for example, gets 69 percent of its budget from mining income.
'Challenging' Conditions
In March, Yamana signed an accord with Catamarca province to invest in mines including Agua Rica and Cerro Atajo. The agreement gives the province a 5 percent stake in the company's Argentine projects and creates a provincial mining district.
Goldcorp, too, is already betting on Argentina, building the Cerro Negro gold mine in Santa Cruz province that began commercial output in January and is targeting production of 425,000 to 475,000 ounces this year.
The Vancouver-based company booked a $2.3 billion writedown on Cerro Negro in the fourth quarter, citing "challenging fiscal conditions." CEO Chuck Jeannes said in an interview in March that he still had high hopes for the Argentine mine as elections would bring beneficial changes.
If the incoming government does ease capital restrictions, Goldcorp will look to accelerate spending and boost output, according to a Santa Cruz official briefed on the matter, who asked not to be named because it hasn't been made public.
German Stocker, a Goldcorp spokesman in Argentina, said capital expenditure for this year is at minimum levels, declining to comment on plans for coming years.
Provincial Royalties
A slump in crude prices is making resource-rich provinces in Argentina more open to mining projects to compensate for declines in energy revenues.
With an expected loss of 1.2 billion pesos ($135 million) hydrocarbon royalties this year, Chubut province is considering reopening talks with Pan American Silver Corp. with a view to resuming development of the Navidad silver project, said a government official who isn't authorized to speak publicly.
Ricardo Zarandon, Pan American Silver manager in Argentina, didn't reply to Bloomberg calls seeking comment.
Navidad, designed to produce 19.8 million ounces a year in the first five years, has been on hold since 2012. Chubut province has revoked a blanket ban on open-pit mining, leaving decisions to local communities, which have not yet been approached. Navidad may bring 2.5 billion pesos to the province, according to Buenos Aires-based research company Abeceb.com.
"All these projects will be executed if, and only if, the new federal administration changes regulations," said Mariano Lamothe, chief economist at Abeceb.com. "The companies are announcing projects as an invitation to presidential candidates to set the table for the arrival of dollars. I'm sure these changes will happen."
Before it's here, it's on the Bloomberg Terminal.
LEARN MORE