What Evangelicals Are Saying About Hillary Clinton
At an Iowa mega-church, voters are skeptical of the Democratic frontrunner's trustworthiness.
By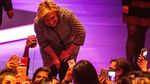 WAUKEE, Iowa—Social conservatives at this weekend's marathon Faith & Freedom Coalition event laughed, sighed, and groaned at the mention of the Democratic presidential frontrunner, Hillary Clinton. 
In interviews at the suburban Point of Grace mega-church where more than 1,000 Iowans came to get an early look at some of Clinton's GOP rivals, all of the 13 right-leaning Iowans I spoke to characterized her as dishonest. "She's like a wave" that is constantly cresting, falling and then forming all over again, said retired nurse Bev Kotzian, of nearby Pleasant Hill, Iowa. "I feel like she's always backstroking to correct her errors."
Jeff Ortiz, a soft-spoken wind energy company supervisor in a navy jacket and red tie, said, "I just can't see having a president of the United States I can't look in the eye and feel they're telling me the truth." Look for instance, he said, at her explanation for keeping a private e-mail server instead of using a government account. "She's the arbiter of what to delete? I know these people think the general public is stupid, but c'mon." 
Ortiz, who is 59, grew up a "Kennedy Democrat," but came to see government programs as destructive in his native Detroit. In manufacturing his entire career, he sees a big part of his job now as mentoring younger employees in working hard and also working carefully. "I want everyone to go home safe at night," Ortiz said. 
Because voters are more than the sum of their demographics, several volunteered that they actually prefer Elizabeth Warren to Clinton, even though Warren is considered far more progressive.

"Hillary has the most experience, and is a woman, and it's about time we had a woman," said lifelong straight-ticket Republican David Hance. "But I'd vote for Elizabeth Warren over Hillary; I like her very much." Why? "She's independent, she's clear, and I guess you'd say she's charismatic," said Hance, a lawyer who in the decade since he retired at age 57 has been a full-time volunteer. Mostly for environmental groups, he says, but then adds that he also drives a van to prison on visiting day, helps out at a school garden and a food pantry, teaches both a citizenship class and an English as a Second Language class to immigrants, teaches Sunday school to homeless men and mentors a second grader.   
He's heard every one of the '16 GOP hopefuls speak already, he says, and is leaning towards Louisiana Governor Bobby Jindal, "but I don't know how he'd sell to the farmers." Last time, he backed Texas Governor Rick Perry, "but he didn't give intelligent answers in the debates—doesn't have a quick enough mind." What bothers him most about the likely Democratic nominee is her husband. "She'll carry over things he was involved in," Ortiz said.
The former secretary of state and New York senator is only in public life thanks to her spouse in the view of Dixie Watters, a Des Moines homemaker. "She rode on the coattails of her husband to get in the Senate," Watters says.
Her son, Tucker, a student at Grand View University, said he'd be a lot more worried about the Democrats winning next year if their nominee were Elizabeth Warren: "She's the Obama of right now."
Also on Bloomberg Politics: The Definitive Hillary Clinton Scouting Report, by Mark Halperin and John Heilemann
Dave Harvey, a registered Independent who runs a carwash in Pella, an hour away, doesn't see Bill Clinton as either much of an asset or liability to his wife, but does cast him as long-suffering in his marriage, and refers to the Clintons with the kind of familiarity with which you'd speak of the couple down the street. "I don't blame him; she wants nothing to do with him," Harvey said.
Her bottom-line problems, Harvey feels, all come back to the bottom line. "In my opinion, she shouldn't even be running for president," Harvey says. "She should be indicted for accepting foreign donations," at her family's global foundation. Those donations were legal, though not all were disclosed, as she'd promised President Obama they would be before she became his secretary of state.
"I look at both sides," Harvey said, so neither major party "pulls me around by the nose." But he also favors the most conservative candidates, naming Dr. Ben Carson and Texas Senator Ted Cruz as his current favorites, while dismissing Florida Senator Marco Rubio and former Florida Governor Jeb Bush as too moderate to even consider supporting.
As they were walking into the church's main hall to hear the speeches from the Republican contenders, Darrell and Teri Rogers of Oskaloosa said Clinton scandals go back so far and run so deep that nothing could surprise them now. "It was bad enough they pooh-poohed Benghazi," said Darrell, a project manager for an international lighting company. "But selling uranium to the Russians"—as major Canadian donors to their foundation did?
"That's dangerous," said Teri, finishing his thought. "It's not one thing, but an accumulation" that in her view does add up to a single impression: "They think they're above the law."
Of the nine GOP presidential hopefuls who spoke at the event, the two who got the best reception overall were also the two who got off the best lines about Hillary Clinton. Like others, Jindal went after something she said recently about the abortion issue. At last week's Women in the World Summit in New York, she said that to guarantee access to abortion, "deep-seated cultural codes, religious beliefs, and structural biases have to be changed."

"I've got news for her," Jindal told the crowd. "My religious beliefs are not between me and Hillary Clinton."
Carly Fiorina, the former Hewlett-Packard CEO, brought the house down when she talked about a recent reporter's question on whether having "women's hormones" might prevent Clinton from making good decisions as president. "OK, ladies, this is a quiz: Can you think of a single instance in which a man's judgment was clouded by hormones, including in the Oval Office?"
In another century, the Clintons suggested that in electing Bill, voters would get Hillary in the bargain, as a "buy one, get one free" bonus. But in taking that shot at Bill Clinton without even mentioning his name, Fiorina takes one, gets one free. Then she circles back to the objection to Hillary Clinton that turns up most prominently in polling, as well as in conversations here:
"Hillary Clinton must not be president of the United States, but not because she's a woman," Fiorina said to sustained applause. "Hillary Clinton must not be president of the United States because she is not trustworthy."