Harvey Miller, Lehman Lawyer in Bankruptcy Case, Dies at 82
Stephen Miller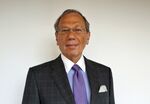 Harvey R. Miller, a partner in the New York-based law firm Weil, Gotshal & Manges LLP who helped create bankruptcy as a practice specialty and represented Lehman Brothers Holdings Inc. in the biggest collapse in U.S. history, has died. He was 82.
He died today at his home in Manhattan, according to Amy Deschodt, a spokeswoman for the firm. The cause was amyotrophic lateral sclerosis, also known as Lou Gehrig's disease.
"Harvey was responsible for the evolution of the restructuring practice to what it is today -- a mainstream practice group in most major law firms," Stephen Karotkin, a partner in Weil Gotshal's business finance and restructuring department, said in an e-mail. "He demonstrated that the practice, which had been shunned by the major national firms, not only was respectable and very profitable, but was an appropriate means to restore major distressed companies."
In a 2007 profile, the New York Times described Miller as "the most prominent bankruptcy lawyer in the nation." He was best known for representing debtors.
Miller's top cases both came out of the worst economic contraction since the Great Depression -- the $613 billion collapse of investment bank Lehman Brothers in 2008 and the $49.5 billion General Motors Corp. bailout by the U.S. government in 2009.
Miller also was involved in the bankruptcies of Texaco Inc., Drexel Burnham Lambert Group Inc. and Eastern Airlines Corp.
Big Paydays
His fees were on the same scale as his cases. In the five years following the 2008 bankruptcy of New York-based Lehman, Miller earned Weil Gotshal almost half a billion dollars, about one quarter of the $2 billion paid by Lehman's bankrupt estate to advisers and lawyers.
Harvey Robert Miller was born on March 1, 1933, in Brooklyn, New York, according to Marquis Who's Who. He received a bachelor's degree from Brooklyn College in 1954 and a law degree from Columbia University in New York in 1959.
Miller worked at two small law firms before joining Weil Gotshal in 1969 as the 14th partner in a 45-lawyer, two-office practice, according to the statement. He and three other partners managed the firm during its first two decades. Today, Weil Gotshal has about 1,100 lawyers in 20 offices worldwide.
An opera fan who served as an advisory director at New York's Metropolitan Opera, Miller said he found bankruptcy law thrilling.
'The Glory'
"Life should be an adventure," he said, according to the Times profile. "My practice at Weil was and still is exactly that. By working on reorganizations and restructuring work in so many different businesses — such as energy, retail, manufacturing and even satellites — that's the glory of the practice and that's what I love about it."
Miller was a lecturer at Columbia Law School and was previously an adjunct faculty member at New York University School of Law.
In 2002, he became a managing director and vice chairman of Greenhill & Co., a New York-based investment bank. He returned to Weil Gotshal in 2007.
His survivors include his wife of 60 years, Ruth Miller.
Before it's here, it's on the Bloomberg Terminal.
LEARN MORE