Expedia Said to Plan Debut Euro Bonds as Borrowing Costs Decline
Sally Bakewell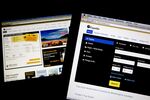 Expedia Inc., is planning to sell its first bonds in euros as the online travel firm becomes the latest U.S. company capitalize on lower borrowing costs in the currency.
Expedia, which owns websites including Hotels.com and Trivago, hired BNP Paribas SA, Goldman Sachs Group Inc. and JPMorgan Chase & Co. to arrange investor meetings for a potential sale in euros, according to a person familiar with the matter, who asked not to be identified because they're not authorized to speak publicly.
Expedia is joining U.S. issuers from Coca-Cola Co. to Berkshire Hathaway Inc., which sold notes in the shared currency this year as European Central Bank stimulus drives down funding costs in the region. The average yield investors demand to hold investment-grade debt denominated in euros was 0.91 percent on Friday compared with 2.87 percent for similarly rated debt in dollars, according to Bank of America Merrill Lynch indexes.
Expedia is rated BBB- by Standard & Poor's and Fitch Ratings, the lowest investment grade. Moody's Investors Service assigns the company Ba1, its highest speculative-grade rating. Meetings with investors will take place in Europe from May 5 to May 7, according to the person
Officials at the Bellevue, Washington-based company couldn't be reached outside office hours for comment on the sale.
Before it's here, it's on the Bloomberg Terminal.
LEARN MORE