Aussie Survives Near-Parity Experience With Kiwi as Doves Fading
Garfield Reynolds and Netty Ismail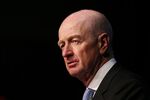 Australia's dollar looks to have survived a near-parity experience with New Zealand's as the policy divergence between the two central banks disappears.
The Aussie surged Tuesday to a five-week high of NZ$1.0356 after dropping to a record NZ$1.0021 three weeks earlier as Australian swap rates headed for their first monthly gain versus New Zealand's since October.
Markets are paring bets Reserve Bank of Australia Governor Glenn Stevens will drop the key interest rate next month to 2 percent after he said reductions may be less effective. The odds New Zealand will reduce the developed world's highest benchmark from 3.5 percent are growing after its central bank ruled out increases last week and said it would consider cuts if growth and inflation pressures weaken further.
"At most, the RBA has got one more cut, which is priced in and that is one of the reasons we're saying we don't think we would sustain a move through parity," said Ray Attrill, global co-head of currency strategy at National Australia Bank Ltd. in Sydney. The RBA will probably keep rates on hold on May 5 and that would boost the Aussie to NZ$1.04, he said. The currency was at NZ$1.0345 at 1:22 p.m. Tuesday in London.
One Reduction?
Traders have gone from seeing multiple RBA rate cuts as a sure thing less than two weeks ago to a less certain view that sees one more reduction as likely. They are also starting to accept that even that one cut won't come at the earliest opportunity, which is next week's board meeting.
Yields on Australia's two-year bonds climbed for the past three weeks in their longest stretch of gains since November after data this month showed inflation was stronger than economists forecast and the jobless rate unexpectedly fell. The yield has risen 22 basis points this month to 1.95 percent. Similar-maturity New Zealand yields have climbed six basis points to 3.16 percent.
Improving data is one reason to put back bets on the RBA lowering rates. Its perceived reluctance to do so is another. Reducing borrowing costs may be less effective now they are at record lows, Stevens said last week in a speech in New York.
Wheeler Neutral
Graeme Wheeler, Stevens's counterpart in Wellington, has traveled in the opposite direction.
At the start of the year, traders saw about a 50 percent chance the Reserve Bank of New Zealand would boost borrowing costs in the next 12 months to temper a property boom, according to a Credit Suisse Group AG index.
Even after January saw European policy makers introduce bond purchases, the Bank of Canada cut borrowing costs and the Swiss National Bank scrap its currency cap, Wheeler maintained a neutral stance on interest rates.
That helped make the kiwi the best performer of 10 developed-nation currencies tracked by the Bloomberg Correlation-Weighted Indexes over the past three months with a 5.6 percent advance.
Those gains have helped turn the RBNZ from a hawk to a dove when it comes to interest rates. The Credit Suisse index is now showing a cut of 25 basis points is almost certain.
Parity Bust
While both central banks have said their currencies should be weaker versus the greenback and other major peers, Australian policy makers are starting to look less likely to lower interest rates aggressively.
For Australia & New Zealand Banking Group Ltd., that says parity is a bust, particularly after minutes of the RBA's April meeting said low rates may foster imbalances.
"The RBA's latest comments seem to suggest that, while they're still in an easing cycle, perhaps the market had become over-exuberant in terms of how much easing they were pricing," Richard Yetsenga, head of global markets research at Australia & New Zealand Banking Group Ltd. in Sydney, said Monday. "Even if the RBA cuts next week, they are likely to keep the forward bias relatively opaque. It's unlikely to be a really dovish cut."
ANZ foreign-exchange strategists Daniel Been in Sydney and Sam Tuck in Auckland wrote in a research note last week the bank recommends buying the Aussie at NZ$1.0230 with a target of NZ$1.06 and an automatic sell order if it weakens to NZ$1.005.
Before it's here, it's on the Bloomberg Terminal.
LEARN MORE