The Slants Get Hearing on Rude Trademark Issue Facing Redskins
Susan Decker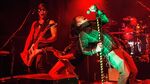 The Slants may offend some but they argue that they have a constitutional right to do so.
A U.S. appeals court said Monday it will consider whether offensive names, like that of the Asian-American rock band, can nonetheless get trademark protection.
For years, the band has been trying to trademark its moniker, which is also a derogatory term sometimes used for Asian people. On April 20, an appeals court in Washington upheld the U.S. Patent and Trademark Office's rejection of the band's application. In an order Monday, the U.S. Court of Appeals for the Federal Circuit said the issue will be considered before all active judges.
The main question is whether the First Amendment right to free speech trumps a legislative ban on disparaging trademarks. The agency also has canceled trademark protection for the Washington Redskins professional football team, in a separate case that's splintered lawyers, politicians and sports fans.
"The problem is that when it comes to this sort of thing, you can't be a little bit pregnant with the First Amendment," said Ron Coleman, a lawyer at Archer & Greiner in Hackensack, New Jersey, who represents The Slants. "The idea that the PTO will be the last bastion of moral diction is a little bit preposterous. They're being asked to insert themselves into moral and political battles."
The cases involving The Slants and the Redskins have sparked a debate within the field of trademark law. The purpose of trademark registration is to give added legal protection to unique names that consumers will recognize and prevent copycats. The agency is required to weed out names that may be deemed offense to ethnic groups, religions or the general public.
'Immoral, Deceptive'
The office must determine if a trademark "consists of or comprises immoral, deceptive, or scandalous matter; or matter which may disparage or falsely suggest a connection with persons, living or dead, institutions, beliefs, or national symbols, or bring them into contempt, or disrepute."
That's led the agency to reject applications for the name of a rooster-shaped lollipop for having a "vulgar meaning" and "Stop the Islamisation of America" by activist Pamela Geller because it may "disparage" religious practitioners. But the agency did allow a trademark for Old Glory Condoms.
If the court rules in The Slants favor, it could mark a fundamental change in what can be trademarked, lawyers said.
"The Redskins decision will be turned on its head," said Kristen McCallion, a New York-based trademark lawyer with Fish & Richardson. "We might see a lot more applications for questionably disparaging marks -- a lot of users of marks like this did not file before."
Before it's here, it's on the Bloomberg Terminal.
LEARN MORE