Speculator Losses Show Krone's Unassailability, Denmark Says
Peter Levring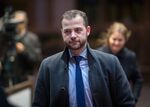 Speculators who thought they could make money betting against Denmark's fixed-currency regime have been put to shame, the country's deputy prime minister said.
"Those investors who contributed to putting pressure on the krone have lost a lot of money," Morten Oestergaard, who is also Denmark's economy minister, said in an e-mailed response to questions on Friday. "In my view, that's the best PR for our fixed-exchange rate regime."
The $300 billion economy became the target of a speculative attack three months ago as hedge funds and other investors bet Denmark's three-decades-old euro peg might break after Switzerland abandoned its three-year-old cap against the single currency. The bet soon proved anything but lucrative as the central bank cut its main rate to minus 0.75 percent, halted government bond sales and quickly built up reserves equivalent to 40 percent of gross domestic product.
Hedge funds, including London-based LNG Capital, said they abandoned their positions against the Danish peg while even domestic pension funds said krone investments were no longer attractive. The International Monetary Fund this month praised Denmark's rare victory against markets and said the episode had underscored the central bank's credibility.
Management Success
"Within the framework of the fixed-exchange rate regime there's no doubt that the consistency with which it has been managed is absolutely right," Oestergaard said. "It's clear that no one was able to succeed in forcing Denmark to abandon our currency regime."
Denmark's krone has been pegged to the euro since its creation in 1999 and before that to the deutschmark. The regime is a bilateral agreement with the European Central Bank and targets 7.46038 kroner per euro inside a tolerance band of 2.25 percent. In practice, the central bank doesn't allow swings greater than 0.5 percent.
One euro bought 7.4611 kroner as of 9:17 a.m. in Copenhagen. That compares with an exchange rate as strong as 7.4327 on Jan. 15, the day the Swiss jettisoned their ties to the euro.
Danes rejected euro adoption in a 2000 referendum and both the government and opposition say there's no point putting the matter to a vote so soon after Europe's debt crisis threatened the future of the region's single currency.
But the AAA-rated nation would have been spared the past few months' speculation had it been inside the euro, Oestergaard said.
"It's clear that euro membership would remove the risk of speculation," he said. "But that discussion isn't relevant now."
Before it's here, it's on the Bloomberg Terminal.
LEARN MORE