Russia's Effort to Shift Trading to Moscow a Bust One Year Later
Halia Pavliva and Ksenia Galouchko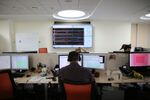 Russia's bid last year to get companies that trade overseas to move their stocks to Moscow for "economic security" amid mounting international pressure over Ukraine has been a bust.
Some of the country's biggest companies have made shares available on the local exchange in addition to those in the U.S., London and Hong Kong. But none heeded the government's call to completely withdraw from foreign markets. And those that have started trading in Moscow have seen little interest from domestic investors as trading volumes trail overseas levels.
While companies including United Co. Rusal, Yandex NV and Polyus Gold International Ltd. have added local listings, others like CTC Media Inc. and X5 Retail Group NV still trade exclusively abroad. The average daily volume in 10 of the country's biggest stocks, excluding OAO Sberbank, remains about 40 percent higher in the U.K. than in Moscow over the past 30 days, data compiled by Bloomberg show. The data does not include over-the-counter transactions with Russian stocks.
"In theory, there are funds that can only buy local shares, but the reality is that the economic crisis is unfolding as we speak, interest rates remain prohibitively high and no one has much money to invest," Ivan Manaenko, head of research at Veles Capital LLC in Moscow, said in a phone interview. "These are great companies in bad circumstances, and there is too little visibility for the market going forward."
Ukraine Standoff
Russian assets have been rebounding after plunging last year as tumbling oil prices and sanctions linked to the Ukraine conflict led to the country's worst economic crisis since 2009. While investors have been returning, stock-trading volume remains higher in shares listed abroad, and some asset managers say local investors still aren't ready to put their money into the market.
The Kremlin urged companies to delist from overseas stock markets in April 2014 after Russia's annexation of Crimea from Ukraine set into motion the worst standoff with the U.S. and its allies since the Cold War. First Deputy Prime Minister Igor Shuvalov said at the time that such moves weren't mandatory, and companies would make independent decisions.
Those that did list stocks in Moscow may have been motivated in part by a desire to stay in President Vladimir Putin's good graces, according to Ilya Balakirev, the chief analyst at Moscow-based UFS Finance Investment.
"There is a political component to it as companies try to prove their loyalty," Balakirev said by phone from Moscow.
Fund Outflows
As the Micex Index jumped 20 percent this year, retail investors ignored the rally and capital outflows from Russian mutual funds continued, Yuri Morogov, a portfolio manager at OAO Sberbank's investment unit said in an interview.
"Russian investors haven't been actively buying Russian equities this year because of fears about the economic situation and the ruble volatility," Evgeny Linchik, a money manager who oversees about 20 billion rubles in equities at Sberbank Asset Management, said in an interview.
While a cease-fire is holding in Ukraine and Brent crude has stabilized above $60 a barrel, economists still predict a 4.05 percent contraction in Russia's gross domestic product this year. At 32 percent, implied one-month volatility in the ruble, an indication of traders' projections for price swings, is the highest among all currencies.
'Simply Cheaper'
"As the ruble stabilizes we expect the return of the previous trend of foreign investors switching out of DRs and into shares," Andrey Braginskiy, a spokesman at OAO Moscow Exchange, said via e-mail on April 22 from Moscow. "It is simply cheaper and more direct to own original shares."
The average 30-day volume in Yandex shares in Moscow is less than 2 percent of its New York turnover, while Polyus Gold's volume is less than 10 percent of its London levels, data compiled by Bloomberg show. Retailer Lenta's Moscow trading is at less than 1 percent of its London daily volumes, the data show.
"The market expectation is for more local listings and at the same time no one is going to delist from foreign exchanges, as for many companies volumes are there and not at home," Anvar Gilyazitdinov, a fund manager at Rye, Man & Gor in Moscow, said by phone from Moscow. "When they list in Moscow, it's about their longer-term approach."
Before it's here, it's on the Bloomberg Terminal.
LEARN MORE