Jeb Bush: Campaigns Don't Need to Spend $1 Billion to Win in 2016
Money will be crucial for every 2016 candidate, but Jeb Bush sees a pathway to victory for under $1 billion.
By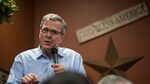 Jeb Bush, the former Florida governor exploring a run for president, said Sunday that contrary to what many campaigns are identifying as a must-have fund-raising number, a successful 2016 candidate does not need to raise $1 billion. 
"I don't think you need to spend $1 billion to be elected president of the United States in 2016," Bush told reporters outside Burger & Beer Joint, a restaurant and bar in South Beach. "I don't think it's necessary if you run the right kind of campaign, you don't need to have these massive amounts of money to spend."
For Bush, whose leadership political action committee and super-PAC run by allies have been targeting big numbers since he began exploring a run in January, raising less than a billion would put him behind President Barack Obama and Republican candidate Mitt Romney's final 2012 haul. 
Bush acknowledged that if he gets into the race, his team would have to raise "a significant sum of money to be able to build a great policy team and great campaign." Still, he hinted that he may focus on smaller donors as well as the big money men and women that have moved to the forefront in the wake of the 2010 Supreme Court decision that opened up new pathways to give unlimited amounts of money to organizations. "If I go forward we're going to make every effort to reach thousands of people and ask them to contribute," Bush said, adding later that he hadn't decided whether he would release the names of his largest bundlers if he decides to launch a campaign. 
The comments came as Bush was in the midst of hosting a two-day confab for top donors at one of the premiere hotels in South Beach. The event is slated to be a time for Bush's top money men and women to get up close and personal with the top staff from his PAC during a dinner and party and series of subsequent meetings. For Bush, who has been criss-crossing the country raising money for his political action committee, Right to Rise, and a super-PAC run by allies known by the same name, the event marks one of the largest gathering of top donors and bundlers since he started raising money for a possible presidential bid in January.
As for the locale? Not a bad place to spend a couple of days. As many of the attendees hopped out of black cars and SUVs to check in this morning, a Porsche, Maserati and Range Rover were among the cars parked just outside the front doors. Rooms at 1 Hotel, where the events will be held, range from between $600 to more than $1,000 per night (though it's expected Bush's crew would get a bulk discount). The hotel, which boasts an eco-friendly theme just about everywhere you turn, has four pools (including a rooftop pool deck that holds cabanas with built in champagne buckets), a forthcoming restaurant by famous chef (and reality TV star) Tom Colicchio and sits mere steps from 600 feet of private beach. Still, many guests have discovered the hotel is still a work in progress, with "coming soon" signs throughout the building of the beachfront property that just opened its doors last month. 
For Bush, the event comes after swings through key early voting states Iowa, New Hampshire and South Carolina and brings him back to where he will locate his campaign headquarters if he decides, as all signs point to him doing, to launch a presidential campaign. Staff members of the campaign-in-waiting have already begun making the move to the area.
Bush, who had just finished a lunch with the winner of his PAC's "Lunch with Jeb" contest, also addressed reports that his brother, former President George W. Bush, told a group assembled at the Republican Jewish Coalition's Spring Leadership Meeting in Las Vegas that he wouldn't be very involved in a potential campaign because it would be unhelpful. 
"I think my brother overstates this a lot," Bush said. "If I go forward as a candidate, I'm going to have to show my heart, show my life experience. It can't be about any kind of dynastic considerations, so he's smart enough to know he needs to pull back a little bit."
Still, Bush said, "that's what he's done in his post-presidency. That's why he's admired by so many people."