Helicopters Rescue 180 Climbers From 20,000 Feet Up Everest
Natalie Obiko Pearson, Abhishek Shanker and Siddharth Philip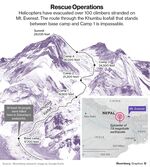 Rescuers took advantage of clear weather to bring down about 180 climbers trapped for two days on Mount Everest as skies cleared over the world's tallest peak.
Helicopters on Monday moved in to rescue the trekkers, who were about halfway up the mountain when avalanches triggered by a devastating earthquake in Nepal on April 25 destroyed routes back to base camp and left them stranded.
Climbers at higher elevations moved down to Camp 1, which has an altitude of about 20,000 feet. From there, helicopters airlifted two people at a time from the mountainside down to base camp in an operation run by the Indian Army, according to Sangeeta Bahl, the wife of one of those stuck at Camp 1.
"The base camp has been completely devastated," Bahl said by phone from New Delhi, relaying details told to her by Ankur Bahl, her husband. "Now they need to get away from there because it's an avalanche area."
The disaster is the deadliest ever on Everest, with at least 19 people killed, including a Google Inc. executive. Many of the victims were at base camp, which was heavily damaged by boulders, snow and blocks of ice.
About 180 climbers stuck about halfway up the mountain needed to be airlifted down to safety, Ang Tshering Sherpa, president at Nepal Mountaineering Association, said by phone on Monday. All those rescued were in good health, he said.
Khumbu Icefall
Twenty-six U.S. Army Green Berets in Nepal on a previously scheduled training mission with the nation's military are now assisting in the search for survivors and victims along Everest trails, Colonel Steve Warren, a Defense Department spokesman, told reporters at the Pentagon on Monday.
Ankur Bahl, a New Delhi shipping industry specialist, was ascending Everest as part of a quest with his wife to climb the world's tallest peaks on all seven continents. He told Sangeeta via satellite phone on Saturday that his group of 12 climbers felt the tremors while climbing to Camp 2 from Camp 1 before hanging up because the phone was low on battery. The group was running low on food and fuel.
"It's been the most devastating 48 hours of my life," Sangeeta said. "I'm a mountaineer myself and know what the conditions can be like up there. We both cried."
The route through the Khumbu Icefall that stands between Camp 1 and base camp became impassable after the avalanches. More than 3,700 people have died altogether in the most powerful earthquake to hit Nepal since 1934.