Cameron to Pledge Small Business Help as Tories Focus on Economy
Svenja O'Donnell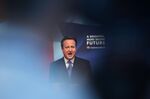 U.K. Prime Minister David Cameron will promise to help the self-employed and boost support for startup businesses as his Tory Party focuses the final days of campaigning on his government's economic achievements.
Presenting his party's Small Business Manifesto on Monday, Cameron will say the Conservatives aim to see 600,000 new businesses start each year by the end of the next parliamentary term, according to a statement released by his office.
He will promise measures to back the self-employed by helping them access maternity pay, build up pensions and get home loans. Small businesses will be promised extra support through tripling the number of startup loans and investing in infrastructure such as super-fast broadband.
"Small businesses are the backbone of our economy, and Conservatives are behind them one hundred percent," Cameron will say in a speech. "We are the party of the grafters and the roofers and the retailers and the plumbers. We get them, we respect them, we understand them, we back them. While Labour sneer, we cheer."
With 10 days to go before elections, the Conservatives' position as the most trusted on the economy and strengthening economic data have yet to translate into a significant lead in the polls. Labour and the Tories remain neck and neck, with neither party set to gain a majority. Rejecting claims his campaign had been overly negative, Cameron told Sky News on Sunday the Conservatives' campaign would now focus entirely on the economy until May 7, polling day.
Cameron will use Monday's speech to reiterate his party's claim a vote for Labour will hurt the recovery and endanger jobs, after he said the economy was at the heart of his party's strategy.
"It really is this simple: Do you want the party who creates jobs, or the party who destroys them?" he will say. "Do you want to keep the people who have mended the economy, or go back to those who broke it?"
Before it's here, it's on the Bloomberg Terminal.
LEARN MORE