S&P 500 Falls, Gold Jumps; Return Plans Boost Apple After Market
Jennifer Kaplan and Callie Bost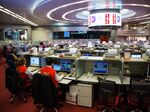 U.S. stocks fell amid a retreat in biotechnology shares, while gold rallied on speculation the Federal Reserve won't move soon on interest rates. Apple Inc. climbed in extended trading after boosting the amount it will return to shareholders and posting better-than-forecast results.
The Standard & Poor's 500 Index lost 0.4 percent from a record by 4 p.m. in New York, while the Russell 2000 Index tumbled 1.2 percent. Gold climbed 2.4 percent for its biggest advance since January, as conflicting U.S. data clouded the outlook for rate increases. Silver and copper also rose. The Stoxx Europe 600 Index jumped 1 percent on optimism over Greek bailout talks. Apple climbed 1.5 percent after market's closed.
Apple, the world's biggest company by market value, increased its capital-return program by $70 billion and recorded a 33 percent jump in profit last quarter amid strong demand for the iPhone. This week's Fed meeting is in focus along with the Bank of Japan, which reviews policy Thursday. Greece resumed efforts to break a deadlock with its creditors Monday as opinion polls showed a majority of people want the government to make compromises to secure funds for the economy.
"The market obviously wants to go higher but it's struggling to make its way, to get that breakout and confirm it," Michael Antonelli, an institutional equity sales trader and managing director at Robert W. Baird & Co., said by phone. "'You've got biotechnology down here now, leading everything lower."
Mylan Sinks
The S&P 500 climbed to an all-time high of 2,117.69 last week, and the Nasdaq Composite Index surpassed its record reached in 2000, after Google Inc., Microsoft Corp. and Amazon.com Inc. rallied after reporting earnings.
Biotechnology companies slumped Monday, with Mylan NV falling 5.7 percent after rejecting Teva Pharmaceutical Industries Ltd.'s $40 billion takeover offer. Applied Materials Inc. sank 8.4 percent after dropping its takeover bid for Tokyo Electron Ltd.
Apple gained to around $135.11 in extended trade, after rising 1.8 percent during regular trading. Should the stock realize its post-market gains, it will reach a record in ordinary trading Tuesday.
Net income in the quarter that ended in March was $13.6 billion, or $2.33 a share, and revenue rose 27 percent to $58 billion, the Cupertino, California-based company said Monday in a statement. IPhone sales in greater China outpaced those in the U.S. for the first time, helped by the Chinese New Year celebration, Apple said.
$200 Billion
Cash and marketable securities increased to $193.5 billion at the end of March, the company said. That drove Apple's increase to its capital return program, which now totals $200 billion. The plan unveiled Monday includes boosting its share-buyback authorization by $50 billion to $140 billion, and increasing the company's dividend by 11 percent.
About 76 percent of the S&P 500 companies that have reported earnings this season have beaten analysts' projections for profit, while 49 percent topped sales estimates, data compiled by Bloomberg show.
"Traders are cautiously optimistic that a good report from Apple and other tech names can continue to drive the Nasdaq further," Michael James, a managing director of equity trading at Wedbush Securities Inc., said by phone from Los Angeles. "If that happens, we're probably going to take the rest of the market to new highs."
The Nasdaq Composite dropped 0.6 percent Monday, snapping a five-day rally, while the Dow Jones Industrial Average lost 0.2 percent.
Mixed Data
Raw-material producers in the S&P 500 gained 0.9 percent as futures contracts on gold, copper and silver gained. Freeport-McMoRan Inc. jumped 4.8 percent and Newmont Mining Corp. rose 2.4 percent.
Fed officials start their two-day meeting on Tuesday after diverging reports on the housing market and orders for business equipment. U.S. gross domestic product is set to grow by 2.8 percent this year, the most since 2005, according to economists surveyed by Bloomberg before data Wednesday.
None of the 43 economists surveyed for a Bloomberg poll expect the U.S. central bank to raise benchmark borrowing costs this week. Boston Fed President Eric Rosengren said this month that the economy isn't ready for a rate increase. Fed Chair Janet Yellen and her colleagues last month opened the door to a boost as soon as June, while also suggesting in forecasts that September may be more likely.
Team Reshuffled
Short-dated Treasuries fell for the first time in three days Monday as Wall Street was left with its biggest share this year of a U.S. two-year note auction. The $26 billion sale was the first of four this week totaling $105 billion of coupon-bearing securities due between two and seven years.
Yields on two-year Treasury notes rose one basis point, or 0.01 percentage point, to 0.52 percent, while 10-year rates climbed one basis point to 1.92 percent.
Greece reshuffled its bailout-negotiating team Monday, a move that effectively sidelines Finance Minister Yanis Varoufakis, after three months of talks with creditors failed to unlock aid and a meeting with euro-area ministers ended in acrimony.
Greece is counting on deposits of local governments, cities and other funds to meet end-of-month payments of over 1.5 billion euros ($1.6 billion). Euro-area finance ministers said on April 24 that they won't disburse more aid until bailout terms are met by Greece's anti-austerity coalition government.
Metal Moves
Yields on Greece's three-year notes dropped 388 basis points to 21.70 percent. The Athens Stock Exchange General Index jumped 4.4 percent to its highest level since March 11.
Gold futures rose 2.4 percent to $1,203.20 an ounce in New York. The metal has climbed 1.6 percent this month after dropping in February and March amid speculation over the U.S.' timetable for rate increases. Silver jumped 4.8 percent, the most since December, while platinum surged the most since September 2013.
Nickel increased 2.7 percent in London and reached the daily trading limit in Shanghai as BHP Billiton Ltd., the world's biggest mining company, said it was operating Cerro Matoso mine in Colombia, the world's second-biggest ferro-nickel mine, below capacity because of a strike.
Brent crude fell 0.7 percent to $64.83 a barrel after closing last week at the highest price since December, as Saudi Arabia signaled it will keep pumping oil, raising concern that a global glut will deepen. West Texas Intermediate dropped 0.3 percent to $56.99.
Ruble Retreats
Rubber rose 5.1 percent as shrinking stockpiles in China and steps by the biggest producers to curb supplies bolstered speculation a global oversupply will dissipate.
U.S. natural gas slipped 1.6 percent to the lowest level since 2012, extending last week's 3.9 percent loss after government data showed inventories had a record seasonal increase. Prices are down 56 percent from a year earlier.
Russia's ruble slid 2.1 percent, trimming this month's gain to 9.8 percent, on speculation exporters are converting foreign currency to meet their tax payments. The central bank will probably cut its key rate by one percentage point to 13 percent, the third reduction this year, according to economists surveyed by Bloomberg before policy makers meet April 30.
The MSCI Emerging Markets Index added 0.5 percent, rising for a fifth day to a seven-month high.
Chinese Equities
China's stocks rose to their highest level since 2008 amid speculation the government is considering merging state-owned enterprises and taking more measures to support economic growth. The Shanghai Composite Index advanced 3 percent, while Hong Kong's Hang Seng China Enterprises Index, which tracks mainland Chinese stocks listed in the city, rose 1.7 percent.
China may cut the number of centrally administered state-owned enterprises to 40 from the current 112 through mergers and restructuring, the Economic Information Daily reported.
Taiwan's dollar advanced the most since July 2013 and the island's benchmark stock index exceeded 10,000 for the first time since 2000 as the possibility of an equities link with Shanghai triggered a surge in demand for local shares.
The Bloomberg Dollar Spot Index, a gauge of the greenback versus 10 major peers, fell 0.2 percent Monday in a fourth day of declines.
Before it's here, it's on the Bloomberg Terminal.
LEARN MORE