Anwar's Wife Stands by Her Man in Fight for Malaysia Seat
Shamim Adam and Ranjeetha Pakiam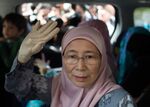 More than fifteen years after Wan Azizah Wan Ismail first ran for her jailed husband's parliamentary seat in the Malaysian island state of Penang, she is back in the constituency looking for votes.
Just like November 1999, opposition leader Anwar Ibrahim is in jail and Wan Azizah is stepping in to contest a seat that's been in the family for more than three decades. Unlike 1999, the disparate opposition coalition is at risk of fracturing over a push by one of its members, Parti Islam se-Malaysia, to implement Islamic criminal law in a state it controls.
The actions by PAS in Kelantan have damaged the Pakatan Rakyat alliance, as the mostly ethnic-Chinese Democratic Action Party calls it unconstitutional in secular Malaysia and a betrayal. With Wan Azizah's party also opposing the move, PAS has threatened to withhold support for her in Permatang Pauh where she's standing for the seat Anwar held before being imprisoned for sodomy.
"Infighting in Pakatan and within individual parties will affect the contest," said Bridget Welsh, a senior research associate at National Taiwan University's Center for East Asia Democratic Studies. Wan Azizah's People's Justice Party "faces the difficult challenge of working with partners that are de facto no longer in partnership. I expect lower turnout and a lower majority, although a loss is not out of the question."
Wan Azizah, 62, will face Suhaimi Sabudin of the Barisan Nasional coalition that rules nationally, and two other candidates in the May 7 poll, the Election Commission of Malaysia said. The constituency is home to about 72,000 voters.
Five Years
Anwar was sentenced to five years in prison in February after the country's highest court upheld a conviction for sodomy, agreeing with an appeals court that last year overturned his 2012 acquittal on the charge. Malaysia's monarch last month denied a request by Anwar's family to free the former deputy prime minister, prompting the by-election.
A loss in the seat would suggest that voters are tired of the long rule of Anwar and his wife and are seeking a new leader to bring the party forward, said Oh Ei Sun, a senior fellow at the S. Rajaratnam School of International Studies in Singapore. It may also mark the end of a pact between the People's Justice Party and PAS as the Islamic party seems to be more reluctant to help its partner lure votes, he said.
Wan Azizah represented Permatang Pauh from 1999 to 2008, while Anwar spent six years in jail on convictions for abuse of power and sodomy. Malaysian laws prevented him from running for office for five years after his release and when the period was up, she relinquished the seat and he won in a special election. Anwar's current imprisonment stems from a separate sodomy charge in 2008.
Sympathy Vote
"Having your leader put in jail is of course a great disadvantage here in that the party will be in a defensive and confused situation," said Ooi Kee Beng, deputy director of Singapore's Institute of Southeast Asian Studies. "But if rightly managed, this can be turned to an advantage. The sympathy vote would be overpowering."
Tensions within Pakatan have been rising. The three parties are bound by little more than the aim of unseating a coalition in office since independence in 1957. Last year, PAS blocked an attempt by Wan Azizah to become chief minister of Selangor, the nation's biggest state by gross domestic product.
PAS' youth wing in Penang won't deploy its members to help in Wan Azizah's campaign amid unhappiness over her party's stance on hudud, the Malaysian Insider reported Sunday, citing its chief Mohd Yusni Mat Piah.
Political Conspiracy
The People's Justice Party, known by its Malay acronym of PKR, also has the task of making the campaign more than just about Anwar, Welsh said. Anwar has maintained his innocence and said he is a victim of a political conspiracy.
Wan Azizah isn't the only one facing political tests. Prime Minister Najib Razak has seen his approval rating slide to around 40 percent as he undertakes unpopular economic measures to plug a budget gap, and has been publicly criticized by ex-premier Mahathir Mohamad over his stewardship.
Najib's implementation this month of a new consumption tax of 6 percent will probably be used to rally PKR supporters in Permatang Pauh away from his United Malays National Organisation.
"PKR has a very powerful tool" in the goods and services tax, said James Chin, director of the Asia Institute at the University of Tasmania. "That alone will make people very angry."
Ooi of ISEAS is confident Wan Azizah will retain the seat for her party in the district Anwar was born in 67 years ago.
"Permatang Pauh has symbolic value for PKR and the Anwar family," Ooi said. "It will require Herculean effort and luck for UMNO to take the seat from PKR."
Before it's here, it's on the Bloomberg Terminal.
LEARN MORE