Tesla Hacked on Twitter, Media-Relations E-Mail Accounts
Jordan Robertson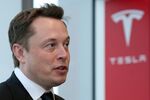 Tesla Motors Inc.'s Twitter feed and its media-relations e-mail account were hacked Saturday, with the electric-car maker led by billionaire Elon Musk becoming the latest victim of online vandals.
The hacker or hackers who compromised Tesla's Twitter feed were able to post messages to the Palo Alto, California-based company's more than 564,000 followers, and one of the attackers responded to an e-mail message to Tesla's press contact, indicating that account was compromised, too.
"It's not been hacked sir," the person wrote from a Gmail account, identifying him or herself as a "tesla press representative" using a name that's been linked to earlier attacks on other companies.
The fraudulent posts were removed from the Twitter account within an hour.
Attacks on companies' Twitter accounts have become commonplace. They often occur when people managing the account fail to turn on so-called two-factor authentication, which involves entering a code sent via text message to the owner's phone, in addition to a password. The attackers are often mischief-makers who tweet out their own Twitter handles or identifying information on rivals.
Tesla spokeswoman Khobi Brooklyn didn't immediately return a call to her mobile phone.
Before it's here, it's on the Bloomberg Terminal.
LEARN MORE