Source: Kuratas via Bloomberg
Gadgets
Nine Gadgets That Will Give You Real Superhero Abilities
They'll do everything except actually get the bad guys for you
By
It's time to face it: You're not Tony Stark. (You're probably not even Elon Musk.) But luckily it's the 21st century, and with a little creativity and some cash to spare, you can buy yourself gadgets that will actually give you some of Iron Man's superpowers. With these nine gizmos, you can augment your body (or fill your garage) with enough advanced technology to turn yourself into a real-life Avenger. 
Pyro Fireshooter

Spider-Man has his webs, Iron Man those energy rays, and now you can shoot fireballs out of your hand. Well, from your wrist, really. The Pyro Fireshooter ($174) straps to your wrist and can carry four fireballs' worth of charge inside, while a remote you hold in your other hand activates the device. We can't recommend it for real crime fighting, but you should probably keep a bucket of water handy anyway.
Garrison Bespoke Bulletproof Suit

Your armor can now be office-appropriate. Instead of heavy, sweat-inducing Kevlar, Garrison uses lighter carbon nanotubes to bulletproof the fabric it selects to custom-tailor your bespoke suit. The terms "light" and "comfortable" are probably relative here, but you're not buying a suit like this for summer lounging. Whether Garrison says so or not, pinstripes are 100 percent required. Price is on request only.
Thalmic Labs' Myo Armband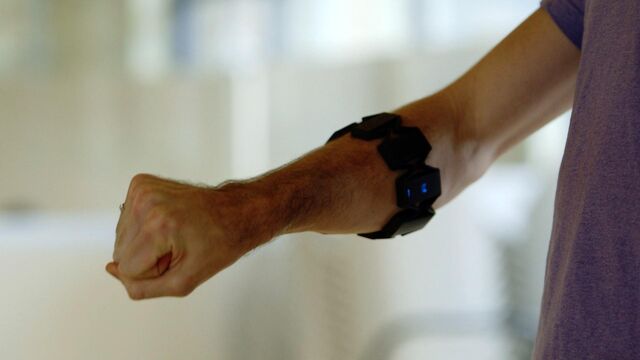 We're reaching peak Star Wars mania right now, and while Jedi aren't superheroes (don't even try to start that fight—you're going to lose), those hand-waving mind-control powers are completely enviable. With the Myo armband ($199), you can control your computer and the electronic devices around you just by gesturing. It makes cleaning out your in-box feel like traveling to a galaxy far, far away. (Now you just have to figure out how to get this to work on your colleagues.)
Kangoo Jumps

I probably don't even have to tell you what these do. The name pretty much says it all. Sort of like rollerblading meets pogo stick meets workout fad, the Kangoo Jumps ($249) don't actually shoot you very far into the air but instead reduce impact, letting you run farther for longer. They also make you look like a total dork, so buy them in matte black and maybe restrict their use to your secret lair.
Seek Thermal XR Camera

Periscope is creepy enough—we don't need people walking around with Superman-like X-ray vision. But with the Seek Thermal XR ($299), your iPhone can detect heat signatures in pitch-black conditions up to almost 2,000 feet away. Seek recommends using it to track game or to scan your campsite for dangerous animals before turning in. We suggest playing the coolest game of hide-and-seek you've ever seen. Or not seen. Whatever.
X-Jets Jetblades

Rocketeer-style jetpacks are still a ways off, but Jetblades ($5,995) let you fly above any body of water for as long as you'd like (with the help of what looks like a fire hose attached to a jet ski). Any product that touts its superior "rotomolded floats" and "torsion bars" is sure to have a learning curve, and Jetblades' website emphasizes that "safe is a relative term." But you're a superhero, right? 
Amphibious Sub-Surface Watercraft

OK, so you don't like getting wet. Jetblades are out of the question. This UFO-looking vessel ($300,000) keeps you nice and dry above or under the water. Instead of going full-on Aquaman, you get to drive around on dry land and then dip below the surface, admiring the sea from the bubble-shaped cockpit underneath.
Kuratas Human-Ride Robot

This is where things get serious. Inside this massive 12-foot-tall robot sits a person, controlling all its movements. It moves slowly (about 6 miles per hour) but can be armed to the teeth with whatever you want. Kuratas robots start at around $1.3 million, but if you're too impatient to design your own or wait to hear back from the company, you can just order one ready-made on Amazon Japan. I told you this was serious.
Gotham Golfcart

If you've never dreamed of cruising around in the Batmobile, this might not be the set of wheels for you. The Gotham Golfcart ($28,500) won't jump a half-destroyed bridge or plow through walls, but it will protect you from any stray shots from those jerks who keep trying to play through. Now you just have to persuade the club to let you drive it up to the ninth green.
Before it's here, it's on the Bloomberg Terminal.
LEARN MORE