Kuroda's Inflation Quest Pushes Japanese Yields Back Below Zero
Kazumi Miura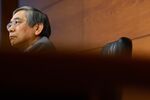 The Bank of Japan helped push yields on government notes below zero this week for the first time since January before monetary officials set policy on April 30 as they pursue an elusive 2 percent inflation target.
Two-year yields declined one basis point to minus 0.015 percent after the central bank purchased 520 billion yen ($4.3 billion) in debt from the secondary market as part of Governor Haruhiko Kuroda's pledge in October to boost the monetary base at an annual pace of 80 trillion yen. Finance Minister Taro Aso said Friday that he expects the BOJ to continue to carry out monetary easing in a sound manner.
"The market's liquidity is thin, so even a little buying by the BOJ will cause yields to move easily," said Makoto Yamashita, a strategist for Japanese interest rates at Deutsche Securities Inc. in Tokyo. There are a lot of investors who haven't bought enough bonds since the start of Japan's fiscal year this month, according to Yamashita.
The benchmark 10-year bond yield fell two basis points to 0.29 percent, the lowest since Feb. 3, at 1:06 p.m. in Tokyo, according to data from Japan Bond Trading Co. The price rose 0.193 yen to 101.057. The 20-year yield also dropped two basis points to 1.05 percent.
Ten-year bond futures for June delivery advanced 0.22 to 148.17 in Tokyo. A basis point is 0.01 percentage point.
European Flow
The drop in two-year yields is being driven by a lack of selling rather than an increase in buying, as debt remains scarce, said Shuichi Ohsaki, a Tokyo-based rates strategist at Bank of America Corp. A decline in European yields may be causing funds to flow into Japan, he said.
Germany's two-year yields touched a record low of minus 0.286 percent on April 15.
There's a possibility that the BOJ will achieve its inflation target in the 2016 fiscal year, Kuroda said Thursday in parliament. While central bank bureaucrats are studying technical details of an exit from quantitative easing, the policy board isn't discussing the move, he said.
The BOJ will expand monetary easing at its April 30 policy meeting, according to three of the 34 analysts surveyed by Bloomberg from March 31 to April 3.
Before it's here, it's on the Bloomberg Terminal.
LEARN MORE