John Kasich: Greed Isn't So Good
Ohio's governor shares a few opinions with Elizabeth Warren, but only a few.
By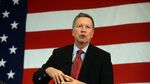 Ohio Governor John Kasich, a Republican considering a run for the White House, says he doesn't think he has any Elizabeth Warren in him–but he seems to agree with the Democratic senator from Massachusetts on one thing.
"I think Wall Street is overwhelmingly too greedy," said Kasich, who spent seven years as a managing director at Lehman Brothers before it collapsed in the housing crisis, on Friday at the New America 2015 Conference in Washington.
On Wall Street, he said, talk of bonuses is "magic," and that's not good. "Whenever the ticket gets to be more important than the good of the company, then you've lost your moral underpinnings," he said. When people's motivation "goes to greed, that's bad. But if it's business and capitalism and free markets, with a little bit of a conscience, it's good!"
Earlier, without saying whether  he supported it, Kasich criticized possible negative effects of the pending Trans-Pacific Partnership free trade deal, which Warren opposes. "I'm pretty much for open, but the American worker has pretty much been shafted," he said.
Kasich indicated that his agreements with Warren pretty much end there. "I don't think you can fix all this like Elizabeth Warren says, by demonizing the rich or saying we can just impose all these regulations," he said, adding that he thought Dodd-Frank Wall Street Reform and Consumer Protection Act, which limited a number of trading activities, "went overboard."
During his speech and a Q&A, Kasich also touched on his acceptance of the Obamacare Medicaid expansion, the pending Iran nuclear deal, drone strikes, Hillary Clinton, the GOP field for 2016 and his own ambitions.
He said he wouldn't have formed a political committee to pay for his travel as he explores a run for president if he didn't think if he didn't think he was gaining support, and he repeated the idea that he would be the most experienced Republican in the race. (He served six terms in the House, where he chaired the Budget committee, leaving in 2001 and winning election as Ohio governor in 2010. He won a second term last year.)
"If I can win, I'm likely to run," he said. Being vice president "is the farthest thing from" his mind, he said.
As for the Democrats, he said he doesn't know where Hillary Clinton stands on the trade deal and that she doesn't take positions on issues because she's too worried about her performance in opinion polls.
He also said supported the use of drones but that the CIA should cede control of the program to the Pentagon, and he suggested the White House accepted a deal with Iran because administration officials fell "in love with it."