HSBC Threat to Move Base From U.K. Ignites Election Campaign
Svenja O'Donnell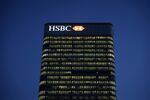 HSBC Holdings Plc's decision to consider moving its headquarters out of the U.K. was thrust into the election campaign Friday, with Prime Minister David Cameron saying it underscored the need for Britain to remain business-friendly.
"It is an important reminder of how vital it is that we keep a pro-enterprise, pro-business, pro-employment policy in our country," he said following a speech in Lincoln, eastern England. "We need to keep taxes low, make this an attractive place to invest."
With the election less than two weeks away and the opinion polls deadlocked, HSBC's announcement is a blow to Cameron, who has sought to portray his Conservative Party as competent stewards of the economic recovery. While the bank said changes in the regulatory environment were the main motivation for their review, Chairman Douglas Flint warned the prospect of a referendum on whether Britain should leave the European Union -- a key Tory campaign promise -- increased risks for business in the U.K.
Flint has been under pressure from investors to consider moving from the U.K., where a levy imposed on banks' global balance sheets following the financial crisis cost HSBC 750 million pounds ($1.1 billion) last year, more than any other lender. Europe accounts for less than a quarter of profit at the bank, which operates in more than 70 nations.
Key Market
Chancellor of the Exchequer George Osborne increased the tax again in his March budget. The opposition Labour Party has pledged to raise it even further if if wins on May 7, in order to fund extra child care for working families.
Labour said HSBC's announcement showed the folly of Cameron's pledge to hold a referendum on Britain's EU membership by the end of 2017 if the Tories are re-elected. That prospect is the main uncertainty facing the economy, HSBC said.
"In February, we published a major research study which concluded that working to complete the single market in services and reforming the EU to make it more competitive were far less risky than going it alone, given the importance of EU markets to British trade," the bank said.
Labour leader Ed Miliband's refusal to hold such a vote is his main pitch to business, which has strongly criticized other Labour commitments such as capping energy prices and raising taxes on the wealthy and big companies. Miliband argues the uncertainty over Britain's future in the bloc would deter investment. He described HSBC's warning as "very significant."
Toward Exit
"The last thing our country needs is two years of internal debate about whether we should leave the European Union or not," Miliband said following a speech in London Friday. "The center of gravity of the Conservative Party is moving toward exit."
London Mayor Boris Johnson, a Conservative, cautioned against imposing too many burdens on business.
"There comes a point when if you heap too much abuse, too many regulations, too many new taxes on any business that it will lose morale, lose confidence and they start to disinvest," Johnson said on a visit to north London, according to the Press Association. "So you've got to be careful. I'm not saying we're at that point. I'm still very bullish as it happens about financial services in London."
Before it's here, it's on the Bloomberg Terminal.
LEARN MORE