Eric Holder Bids Farewell to Justice Department
Del Quentin Wilber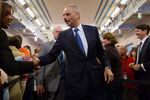 U.S. Attorney General Eric Holder bid farewell to the Justice Department with a defense of his work on issues ranging from civil rights to prosecuting terrorists in civilian courts.
Before several hundred lawyers and staff in the department's great hall in Washington, Holder spoke emotionally for 15 minutes about his six-year tenure as the nation's top law enforcement official.
"It is hard for me to walk away from the people and the institution I love so much," said Holder, 64, who also expressed thanks to his staff and his security detail.
Not known for a sense of humor, he cracked a few jokes, including one about how his children's names are etched in his official portrait and another about not charging employees leave for attending the speech.
Holder joked about the delay in his departure, calling the speech his third good-bye event. He gave away two "Free Eric Holder" armbands, which were popular among aides frustrated by the delay in confirming Loretta Lynch as his successor. Lynch, who was confirmed Thursday by the Senate, is scheduled to be sworn in Monday and will be the first black woman to serve as attorney general.
Holder announced his resignation in September, long enough ago that he has jumped from 4th to 3rd in the rankings of longest serving attorneys general in U.S. history. Lynch was nominated by President Barack Obama in November, but her confirmation was delayed by political fights over the administration's immigration policies and partisan squabbling over unrelated legislation addressing human trafficking.
Divisive Figure
Holder, the first black attorney general, positioned himself at the vanguard of protecting racial and ethnic minorities and gays and lesbians from discrimination. As part of that effort, he sought to fix what he considered flaws in the justice system and sentencing policies.
During his six years in office, Holder has also been seen as a divisive figure, particularly by Republicans, and came under sharp criticism for overseeing leak investigations that ensnared reporters and for his handling of a botched gun-trafficking investigation and its aftermath.
During his final speech, Holder focused on more positive themes and took a parting shot at critics of his policies. He celebrated how the department handled its investigations of lenders and settlements related to the financial crisis. He also praised prosecutors for how they took on polluters, civil-rights violators and tax evaders.
Comcast Deal
Holder hailed the work of his antitrust division, noting that Comcast Corp. had abandoned its $45.2 billion bid to buy Time Warner Cable Inc.
"I think it would have been extremely anti-competitive and it would not have been in the best interest of the American people," he said of the proposed tie-up.
He also took a shot at those who criticized his efforts to try terror suspects in U.S. civilian courts, saying the debate "is dead."
"We brought the toughest national security cases into that system with unbelievable results," he added.
An over-arching achievement, Holder said, was that the department was no longer viewed as partisan or being influenced by politics -- a notion that Republicans will find hard to swallow.
"This department is restored, it's restored to what it always was," he said, "and what it must always be -- free of politicization, focused on its mission, making sure justice is done, without any kind of interference from political outsiders."
Before the speech, Holder toured the Justice Department and shook hands and hugged his soon-to-be former employees. As he left the building to applause, he shook more hands and stood for selfies with lawyers and staff.
"I'm going to miss you," he said before leaving the stage for the final time. "I'm going to miss this institution."