Greek Equities to Bonds Show Little Concern Over EU Frustration
Roxana Zega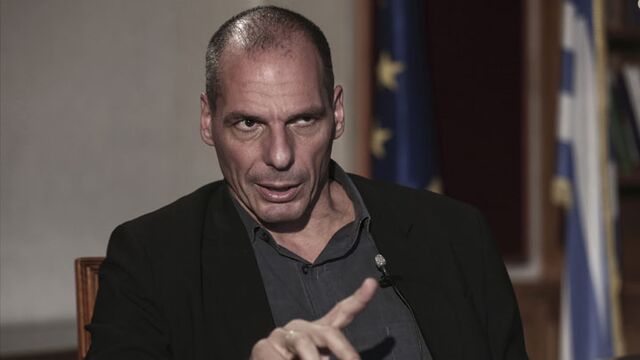 As frustration mounts among euro-area finance ministers over inconclusive Greek debt negotiations, equity and bonds markets rally.
The benchmark ASE Index climbed as much as 4.5 percent and took its weekly jump to 4.4 percent, the most in more than two months. A gauge tracking Greek banks has rebounded 27 percent from a record low on April 21. The yield on the three-year note dropped to as low as 23.67 percent after reaching on Wednesday the highest rate since the nation's debt restructuring in March 2012.
While Greek bonds tumbled earlier, the equity market has proved relatively calm, with volatility sliding as bailout negotiations enter a fourth month. Even with a 7.8 percent decline in the ASE stock gauge this year, investors have poured money into an exchange-traded fund tracking the shares and cut bearish wagers, betting the only way is up. Euro-area finance ministers met in Riga, Latvia, to discuss how to proceed as the country runs out of money.
"There's some renewed optimism with the Riga meeting," said Raimund Saxinger, who helps oversee $22 billion as a fund manager at Frankfurt-Trust Investment GmbH. "There's always people prepared to take a position depending on how they perceive probabilities shifting."
Tsipras Appeal
Prime Minister Alexis Tsipras pleaded his case with German Chancellor Angela Merkel, French President Francois Hollande and European Commission President Jean-Claude Juncker this week, asking for an acceleration of talks with the country's creditors to strike a deal by the end of the month. The Greek premier has ordered municipalities to transfer their cash balances to the central bank as salaries and pensions come due. Economists say that a default doesn't mean Greece has to leave the euro area.
Piraeus Bank SA and Attica Bank SA were among those leading the ASE advance on Friday, rising more than 9 percent. The gauge has moved an average of 1.6 percent each day this month through Thursday, the least since September and down from 4 percent in February, the most volatile month since 1987.
The yield on the Greek 3.375 percent note due in July 2017 fell this week after a surge in the last. It surpassed 30 percent on Wednesday.
"Greece has been the noise in the background of the recent weeks," said Guillermo Hernandez Sampere, who helps manage about 150 million euros ($161 million) at MPPM EK in Eppstein, Germany. "There is a political will to keep Greece in the monetary union."
Before it's here, it's on the Bloomberg Terminal.
LEARN MORE