pursuits
Comcast Future Without Time Warner Cable Brighter Than It Looks
Gerry Smith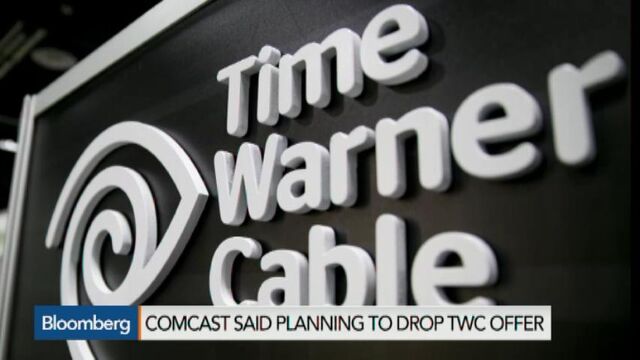 The collapse of Comcast Corp.'s attempt to buy Time Warner Cable Inc. ratchets up pressure on the company to chase growth by other means, from mobile communications in the U.S. to expansion overseas.
Without the millions of Time Warner Cable subscribers it coveted in New York and Los Angeles, Comcast still has plenty of options to expand. The cable giant can hammer out deals for additional programming abroad, use its vast network of Wi-Fi hot spots to introduce a mobile-phone service and build on its effort to improve the quality and speed of high-speed Internet access to consumers' homes.
Comcast walked away from its $45.2 billion proposed takeover as antitrust regulators opposed the deal. Losing Time Warner Cable is a blow. Beyond adding the broadband assets in major U.S. cities, the merger would have helped Comcast fend off competition from phone companies, satellite providers and Web services.
Yet while Chief Executive Officer Brian Roberts and the company were lobbying hard for the combination, Comcast has been taking steps to secure its future with or without Time Warner Cable. Last month, Comcast created a new company to be led by Chief Financial Officer Michael J. Angelakis that will focus on investments in growth businesses around the world.
"We have so many diverse businesses that are all growing," Roberts said Friday on CNBC. "We're going to see lots of opportunities from the companies we've got, from new startups and from the world."
As consumers increasingly choose to watch programs online rather than on television, Comcast has bolstered its Internet business and remains the country's largest broadband provider -- with 22 million customers. Reporting 2014 profit at $8.4 billion, up 23 percent from the year before, and about $4.5 billion in cash at the end of last year, Comcast showed that it can thrive without the merger.
'Strong Collection'
"Comcast has said from the beginning it didn't need this deal and they meant it," said Craig Moffett, an analyst at MoffettNathanson. "Comcast has a strong collection of assets and they're operating at a very high level, and there's no reason to think that will change."
The Philadelphia-based company is trying to diversify because its traditional cable-TV business is under pressure. With more video programming being offered through online services such as Netflix Inc. and Amazon.com Inc., the number of Americans signing up for packages with hundreds of channels is slowing. And companies including Dish Network Corp. are further threatening the model with less-expensive Web-TV offers.
Comcast, which owns the NBC broadcast network, cable channels such as USA and MSNBC and the Universal film studio, will likely seek to buy TV programming assets outside the U.S., said analysts including Moffett and Paul Sweeney, an analyst at Bloomberg Intelligence.
"Comcast is going to be fine," Sweeney said. "It has a world-class balance sheet to make acquisitions."
Looking Abroad
Comcast may have "at least passing interest" in Liberty Global Plc, which sells television, Internet and phone service in Europe, Asia, and Latin America, according to Moffett. And the arrangement with Angelakis now looks prescient, because it will enable Comcast to find opportunities overseas.
"It has positioned Comcast relatively well to look outside the U.S. for acquisitions," Moffett said.
Another option for Comcast is entering the mobile business. Comcast could let subscribers make calls using its network of more than 8 million Wi-Fi hot spots.
"We'll be working on ways to bring it to market over the coming months," Comcast Cable President Neil Smit said recently about the company's wireless ambitions.
Skinny Bundles
And as more companies introduce so-called skinny bundles, the less-expensive, smaller online packages of TV channels, Comcast may follow suit.
"There is no doubt in our mind that Comcast will launch a nationwide [online video service] to compete with Dish's Sling, Sony's Vue and coming services from Verizon and Apple," said Rich Greenfield, an analyst at BTIG Research in New York.
Before it's here, it's on the Bloomberg Terminal.
LEARN MORE