Canada Senate Speaker Nolin Dies After Pancreatic Cancer Battle
Theophilos Argitis and Josh Wingrove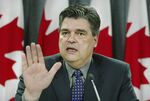 Pierre Claude Nolin, the speaker of Canada's Senate who helped bring the Conservatives Party back to power in 2006, died Thursday after battling a rare form of pancreatic cancer. He was 64.
His death was confirmed Friday by Claude Carignan, the government's senate leader. A spokeswoman had issued a statement Thursday saying Nolin's health had deteriorated.
Nolin was a staunch defender of Canada's Senate, the embattled upper chamber facing widespread calls for reform or abolition. Nolin was appointed by Prime Minister Stephen Harper in November to serve as Speaker.
"This is so sad, in many ways," said Marjory LeBreton, a fellow Conservative senator appointed on the same day as Nolin in 1993. Nolin had been absent in recent weeks, including during a visit by the Indian prime minister that LeBreton says he would have wanted to attend.
"This big, robust man, and you could see him fading away," LeBreton said from Ottawa Friday in a telephone interview. "But, you know, he ended his life doing something he loved -- being Speaker. He loved procedure and rules. And good for the prime minister appointing him to that position, because clearly Pierre Claude's health was not good."
Nolin, a lawyer and long-time Conservative organizer who advised two prime ministers, Brian Mulroney and Harper, ran the party's campaign in Quebec in 2006 that saw it break through in the mainly French-speaking province.
Quebec Champion
Nolin championed recognizing Quebec as "different" from other Canadian provinces. Harper responded by revamping the Quebec wing of the party, calling the province a nation and offering it a voice on some international agencies.
In a statement Friday, Harper called Nolin "a strong and clear voice dedicated to serving Quebecers and all Canadians," and praised his extensive legal and parliamentary experience.
"Thanks to his courage and patriotism, this affable and cultured man was able to exercise his talents as a unifying and enlightened guide to his colleagues up to the end lot of his life, in spite of a cruel illness," Harper said.
Canadian senators are appointed by the prime minister, and serve until the age of 75. The Senate must approve all proposed laws in Canada, and typically -- though not always -- approves bills passed by elected lawmakers in the House of Commons.
The death comes during a high-profile trial in Ottawa of another senator, suspended Conservative Mike Duffy, who is facing 31 charges related to expense claims.
Duffy Case
The Duffy case spurred calls for abolition of the unelected Senate, and revelations of the allegations in 2013 led Harper's polling numbers to reach their lowest point since the 2011 election. Amid the controversy, Harper has stopped appointing senators -- Nolin's death leaves 20 vacancies among 105 seats.
Conservative Senator Janis Johnson, appointed in 1990, said Nolin wanted Canadians to better understand the Senate's role as a chamber of sober second thought. "He championed this to his last days with us," she said.
Nolin had a "steadfast commitment to both preserve and modernize" the Senate, Carignan said in a statement. LeBreton said that included plans for senators to take more public speaking opportunities to discuss their role.
"He was going to get out in a more aggressive way in defending the Senate by pointing out what we do -- and what we don't do," she said. "He was a very serious guy, and when he took up a cause, he got into it 100 percent."
Nolin is survived by his wife Camille, and his children Simon, Louis and Virginie, and his grandchildren.
Before it's here, it's on the Bloomberg Terminal.
LEARN MORE