You Thought Amazon's Cloud Was Big? Alibaba's Is Huge
The Chinese company is planning global expansion via its Aliyun cloud service
By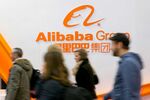 After keeping the world waiting for nine years, Amazon finally broke out earnings for its Amazon Web Services on Thursday. The $1.57 billion in sales for the quarter suggest that the company is far ahead of rivals in the cloud computing business. But as AWS expands globally, it faces strong competition from a familiar foe: Alibaba.
Amazon already has 28 percent of the worldwide market for cloud infrastructure services, followed by Microsoft with 10 percent, according to a report by Synergy Research Group. To expand its share, Amazon has spent the past few years plunking down gigantic data centers around the globe to help it quickly serve customers outside the U.S. In some cases, it did so to abide by local regulations as to where these servers should be located. Unlike many of its rivals, Amazon has targeted China, opening a data center near Beijing in 2014.
Typically, when Amazon has expanded around the world to locations such as Brazil, Ireland, and Singapore, it has faced scant local competition, aside from a few regional Web hosting companies or telecommunication companies. China is different.
1.4 million customers
Since 2009, local e-retailing giant Alibaba Group Holding has been operating Aliyun, its own cloud computing service. It's huge, with more than 1.4 million customers. It's also beginning an international expansion to serve Chinese businesses around the world, says Sicheng Yu,vice president of Aliyun. Amazon, meanwhile, claims that more than a million customers use its service globally.
Alibaba opened its first overseas data center in Silicon Valley in March to help provide cloud computing services to Chinese customers, Yu says. At the time, Alibaba said it served a 22.8 percent market share of the Chinese infrastructure-as-a-service market in the first half of 2014. It currently has five data center hubs in Asia: Beijing, Hangzhou, Qingdao, Hong Kong, and Shenzhen.  
"One of the things I'm trying to do is a global deployment," Yu says. This involves "expanding the technology everywhere to be self-contained," he says, which would let Alibaba's cloud function across the world, even if certain regions become unavailable because of connectivity losses or other events. 
Customized chips
Like Amazon, Alibaba has a strategic partnership with Intel to do custom chips. Unlike Amazon, it has been more public about its experimentation with low-power server processors based on designs from ARM Holdings. Alibaba joined a cross-industry engineering organization named Linaro in April to develop software to get the most out of new chip designs from ARM. The company is looking at ARM closely, says Yu, and will have more details to share next year.
By adopting a non-standard processor architecture, Alibaba would be able to save money on its mammoth electricity bills by tailoring its chips to its software. In doing so, it would join a small club of companies such as Google, Microsoft, and Amazon, with the scale and engineering talent needed to make such a move. 

Aliyun has more than 1,200 employees, 80 percent of whom are engineers, says Yu. The company began looking at doing heavy engineering on hardware and software about 10 years ago, predating the formation of its cloud. 
Room for growth
Unlike the U.S., whose cloud market is fairly mature, less than 10 percent of the IT spending in China goes to cloud computing, says Yu. Based on data gleaned by the cloud unit, Yu says spending by companies in China on the cloud is "eating the pie" of traditional tech companies. "The cloud IT infrastructure grows much faster, or 10 times faster, than the legacy IT spending," he says.
Government ties
As is typical of large Chinese technology companies, Alibaba is woven into China's bureaucracy. The company currently has strategic agreements with 12 Chinese provinces, regions, and municipalities, as well as an undisclosed number of government agencies, including the China Central Government Procurement Agency. That guarantees it a lot of business in China and ensures that its infrastructure is stress-tested in the same way that large clouds from Google, Amazon, and Microsoft are. This helps to make its service more resilient.

As Amazon tries to keep momentum going in China, a battle looms with Alibaba—both in the country and abroad—as Aliyun's cloud grows.