Wiese's Brait Has $2 Billion to Spend After U.K. Gym Deal
Chris Spillane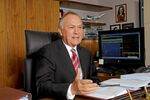 Brait SE, the Johannesburg-listed company that last week agreed to buy British health-club provider Virgin Active, has a further $2 billion to spend on deals, according to its largest shareholder and billionaire Christo Wiese.
The San Gwann, Malta-based investment company is seeking to buy businesses that are cash generative and have a proven management team, Wiese, who owns a 35 percent stake in Brait worth about $1.4 billion, according to data compiled by Bloomberg, said in an interview on Thursday. The company agreed to pay 682 million pounds ($1 billion) for 80 percent of Virgin Active, which has more than 40 percent of its gyms in South Africa.
"There is a very substantial war chest depending on how one goes about monetizing assets or financial structures; but Brait can do some fairly sizable deals," Wiese, 73, the fourth-richest South African with a personal fortune of $7 billion, according to the Bloomberg Billionaires Index, said by phone from Cape Town. "Another deal in the range of 20 billion rand ($1.6 billion) to 25 billion rand is completely within Brait's range."
Shareholders have pressured the company to look for targets since it agreed to sell its stake in African retailer Pepkor Holding Pty Ltd. to Steinhoff International Holdings Ltd. for 26.4 billion rand last year -- South Africa's biggest takeover in more than a decade. Potential deals are being sought in Europe and its home market, Brait's South Africa Chief Executive Officer John Gnodde said by phone on April 16.
British Opportunities
Brait shares fell 1.1 percent to 90 rand as of 4:27 p.m. in Johannesburg. The stock has gained 14 percent this year, valuing the company at 46 billion rand. That compares with an 11 percent increase on the FTSE/JSE Africa All-Share Index.
Brait's other investments include U.K.-based food retailer Iceland. Wiese said a record loss by the country's largest grocer Tesco Plc, which has a market value of 18 billion pounds, may present further opportunities for investors in the industry. Wiese is part of a group of businessmen behind Pep & Co., a British discount chain.
"I was a little bit shocked when I saw the Tesco numbers, I mean these are horrific numbers," he said. "We're not actively looking at anything at the moment but one is aware of what's happening out there and at some stage we may look."
Wiese has a stake in Steinhoff worth about $4.2 billion, obtained as part of the Pepkor sale, and a $1.2 billion shareholding in grocer Shoprite Holdings Ltd., according to the Bloomberg Billionaires Index.
Before it's here, it's on the Bloomberg Terminal.
LEARN MORE