Vietnam to Bolster Ailing Pension System After Worker Strike
Nguyen Dieu Tu Uyen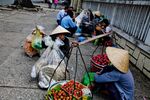 Vietnam is considering ways to shore up its pension system, a senior lawmaker said, after tens of thousands of workers protested new rules on benefit withdrawals.
Vietnam will ease rules, expand eligibility criteria and match worker contributions to overhaul its voluntary pension fund and encourage more employees to join so as to reduce the burden on the system, said Bui Sy Loi, vice chairman of the social affairs committee at the National Assembly. Workers also make payments to a mandatory fund.
"We want everyone from a street vendor to a farmer to have better retirement savings," Loi said in an interview late Wednesday in Nghe An province, south of Hanoi. The draft for changes to the voluntary pension fund will be sent to Prime Minister Nguyen Tan Dung for approval later this year, he said.
Vietnam is seeking ways to bolster its pension system, which is forecast to have deficits starting from 2021 and risks being depleted by 2034 without reforms, according to the International Labour Organization. Tens of thousands of workers earlier this month protested new rules to the mandatory pension fund that would prevent them from being eligible for lump-sum social insurance payments when they leave their jobs.
Officials have said they will water down the new law. The proposed changes to the voluntary fund which will take effect Jan. 1, 2018 will lower the minimum earnings requirement to enable more employees to join, and calls for the government to match 10 percent to 30 percent of contributions, Loi said.
Crucial Incentive
"A government matching system is crucial as an incentive for workers to join," said Alan Pham, Ho Chi Minh City-based chief economist at VinaCapital Group, the nation's biggest fund manager. "To start at 10-30 percent may be ambitious."
Pham suggested beginning with 3 percent to 5 percent and gradually increasing the limit, with transparency key to the fund's administration as worker confidence is already low.
Previous efforts to match employee contributions were set aside because of state budget deficits. The government aims to have 37 million people, or about two-thirds of the total labor force including those engaged in the informal sector, to be covered by the pension system, Loi said.
As of 2010, the mandatory pension program covered about 9.3 million Vietnamese, or 20 percent of the labor force, according to the Asian Development Bank. The voluntary system covered 62,000 workers.
The protests earlier this month halted production at four factories owned by a Taiwanese footwear manufacturer employing more than 90,000 workers and supplying brands including Adidas AG.
Vietnam is not alone in facing a pension crisis. South Korea told employers to provide retirement plans for staff starting in 2016 after realizing that its state pension fund may go broke by 2060, when its population over 65 is set to triple.
Singapore's government has made it mandatory for companies to offer three more years of work to those turning 62, the official retirement age, and plans to extend that to five years by 2017. Efforts by Vietnam to raise the retirement age in the past two years have been rejected by lawmakers.
Before it's here, it's on the Bloomberg Terminal.
LEARN MORE