Hedge Fund Billionaires Double as Platt Catches Up to Howard
Will Wainewright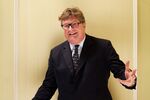 Seven U.K. hedge fund managers are now worth more than 1 billion pounds ($1.5 billion), up from four executives last year, an annual wealth ranking compiled by the Sunday Times showed.
Alan Howard and Michael Platt, co-founders of Brevan Howard Asset Management and BlueCrest Capital Management respectively, led the hedge fund section of the Sunday Times Rich List 2015 with fortunes of 1.5 billion pounds each. Platt, whose wealth was unchanged from last year, caught up with Howard, whose fortune shrank 100 million pounds after topping the 2014 list.
Odey Asset Management founder Crispin Odey and his wife Nichola Pease have almost doubled their combined wealth to 1.1 billion pounds. Odey Asset Management's profits tripled to a record 174 million pounds in 2013-14, with Odey earning 47.8 million pounds, the newspaper said in a statement on Friday.
Hedge fund managers are taking on more clients as the U.K. economy grows at the fastest pace since 2008 and investors look to their expertise to help offset a slump in yields from fixed income. Hedge-fund revenue is often determined by a fee model known as "two-and-twenty," which charges investors a 2 percent management fee and 20 percent of any performance gains.
The other hedge fund billionaires were Alexander Knaster of Pamplona Capital, Michael Hintze of CQS Management, Robert Miller of Search Investment Group and David Harding of Winton Capital.
First Loss
Howard was the only manager in the top 20 whose wealth declined. His macro-based Brevan Howard Master Fund posted its first annual loss last year, falling 0.8 percent, according to a person with knowledge of the situation who asked not to be identified because the data is private. Platt's BlueCrest flagship fund rose 0.15 percent in 2014, another person said.
Both funds were outperformed last year by Odey European Inc., the main fund at Odey Asset Management, which rose 5.5 percent, according to an investor letter. The fund makes long and short bets on the direction of company share prices.
Representatives for Howard, Platt and Odey declined to comment.
The rich-list is part of the Sunday Times Magazine's annual overview of Britain's 1,000 wealthiest people.
Before it's here, it's on the Bloomberg Terminal.
LEARN MORE