Twitter Tries to Tone Down the Chirping
An update called Highlights edits feeds to about a dozen tweets
By and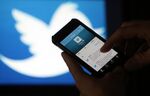 Twitter today looks pretty much like it did five years ago, a constantly updating, reverse-chronological feed of thoughts and jokes from the accounts you've chosen to follow. The company has tried numerous minor tweaks to the interface but hasn't overcome its biggest barrier to growth: Twitter requires you to spend a lot of free time to build a feed, maintain it, and just plain read all those tweets. For a casual user, a typical Twitter feed, even one that follows just a few hundred accounts, can seem cacophonous and never-ending. As the service's active user count plateaus at about 300 million, one-fifth the size of Facebook, the company's product team has begun trying in earnest to deal with the problem.
On April 23, Twitter planned to release a feature called Highlights, its most radical attempt so far to draw people who don't want to spend all day refreshing their feeds. Using an algorithm like the one that guides Facebook's news feed, Highlights curates—once in the morning and once in the evening—about a dozen of the tweets it deems the most interesting and packages them into a personalized digest.
Twitter's Android app will push the digest directly to the list of notifications from major apps on a user's smartphone. (Twitter says it has no timetable for an iOS version.) Tapping the notification brings up the Highlights digest, not the full Twitter feed. "We wanted to create this emotion of being done with Twitter, caught up for the day," says Todd Jackson, who heads the team that developed Highlights.
Once you swipe your way into Highlights, it doesn't quite look or feel like Twitter. The dozen or so tweets are arranged in order of supposed importance, not by time stamp. Each one is displayed on a full screen with any associated photos or videos placed above the text, flipping the usual Twitter emphasis on the 140 characters and keeping individual tweets from feeling like part of a feed. Some aren't even from people you're following, says Kevin Weil, Twitter's senior vice president for product. "The things you care about, the places, the causes, the brands, the sports teams—we're trying to do a better job of bringing that to you, rather than making you go find it," he says.
The effect is to make Twitter function more like Facebook. In fact, Mark Zuckerberg's company piloted a similar feature two years ago. Facebook Home, a digest culled from the social network's news feed, likewise pushed its occasional updates to an Android phone's notifications list. Facebook Home, a standalone app, was panned for making it more difficult to see alerts from other apps and has been downloaded fewer than 5 million times, according to Google's app store Play.

Highlights is a significant step outside Twitter's comfort zone in pursuit of new users. Weil, who in October became the company's fifth product chief in five years, has focused on making Twitter look less intimidating. In February his team released an "instant timeline" feature that automatically builds Twitter feeds for new users who agree to give it access to their smartphone contact lists. "While you were away" notices, added in January, push a handful of the most popular tweets you missed to the top of your feed when you log in. Earlier in April, Twitter's spartan home page, which used to offer only an option to sign in to the service, added colorful category tabs such as "cute animals" and "Nascar drivers" that suggest related accounts to follow.
Weil assumed his current role after leading Twitter's ad-product team, which developed new sources of revenue faster than the product team cranked out new features for users. Twitter, set to report quarterly earnings on April 28, says Weil's efforts may lead to an uptick in user growth in the first quarter. Looking at Twitter's updates so far, it's a little early for that, says Brian Wieser, an analyst at Pivotal Research Group. "On balance, it's still what it always was," says Wieser, who hasn't seen Highlights. "I don't see anything yet that makes me feel like this is suddenly a must-have ubiquitous platform. There already is one. It's called Facebook."
Algorithms are going to become more important for Twitter's product team as it tries to push the best of each day's 500 million tweets to more people, Weil says. In the past, Chief Executive Officer Dick Costolo has fired product chiefs faster than he's made major product innovations. Weil says that's changing, and Twitter's product strategy is finally set. "I'm not going anywhere," he says.
The bottom line: Twitter's Highlights feature pushes the service more toward Facebook in an effort to boost flagging user growth
Before it's here, it's on the Bloomberg Terminal.
LEARN MORE