Trader Tied to Flash Crash Says He Changed His Mind a Lot
Tom Schoenberg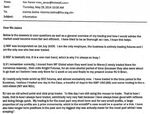 A self-described insomniac, Navinder Singh Sarao railed against high-speed traders for corrupting financial markets and defended his own rapid-fire success as the benefit of a quick mind.
"I trade very large, but change my mind in a second," wrote Sarao in a May 2014 e-mail to the U.K. Financial Conduct Authority before he was accused this week in the U.S. of contributing to the 2010 flash crash.
These new details, gleaned from pages of e-mails and documents released by U.S. authorities as part of their case against him, are at odds with the public profile that has so far emerged of the 36-year-old Londoner. He worked out of sight, sometimes from his parents' suburban home, before his arrest this week and was described by one fellow trader as distant.
The Sarao revealed in court records is a squeaky wheel, well known to his brokers and software providers, who he harassed for not enabling him to trade as fast as he wanted. He corresponded, too, with regulators, including those who are now under scrutiny for not detecting earlier how his methods may have contributed to white-knuckled moments on May 6, 2010, when $1 trillion of value was briefly erased from U.S. stocks.
Market Intuition
In defending his propensity for submitting and then almost immediately canceling trades -- an allegation central to manipulation charges against him -- Sarao told regulators he relied on market intuition. The records also show the firms he worked with to lower his taxes and to run his business included banks in Switzerland and Dubai, and brokers at MF Global Holdings Ltd. and R.J. O'Brien & Associates.
Trading Technologies Inc. and Edge Financial Technologies Inc. are identified in the documents as the software providers that Sarao used to get an upper hand and to help him disguise his orders from high-frequency traders.
Sarao, who goes by Nav, also said his investing style was a reaction to speed traders, who he said could manipulate the market based on his orders without any repercussions. He said his software and his distance from Wall Street made his transactions "miles too slow" to compete with flash traders operating out of the U.S.
"I don't like the HFT arena and have complained to the exchange numerous times about their manipulative practices, please BAN IT," Sarao told the FCA in the May 2014 e-mail.
'Using Mouse'
While high-frequency trading has no exact definition, it includes strategies such as using ultra-fast technology and placing computer servers close to exchanges to react to market data as quickly as possible.
Armed with computer algorithms, Sarao relied on some of those techniques, but he also told regulators he was old school. "To this day I am still using the mouse to trade," he wrote in the e-mail to the FCA.
And if what regulators say about Sarao's manipulation is true, some high-frequency traders could have been his victims.
The Justice Department and Commodity Futures Trading Commission said he engaged in spoofing, the practice of rapidly submitting fake orders and then withdrawing them to move prices to his benefit. Because spoofing typically happens in milliseconds, high-frequency trading firms are the most likely to be harmed.
"It sounds like the regulators came after him and he tried to deflect attention from himself on to high-frequency traders," said Bill Harts, chief executive officer of HFT advocacy group Modern Markets Initiative. "I think that's all we need to know about his credibility."
'Not Vanity'
Sarao, who said he started his one-man operation in July 2005, first cleared his transactions through MF Global, the now-defunct firm that was headed by Jon Corzine. After MF Global collapsed in 2011, he traded through Marex Spectron and Knight Execution & Clearing Services LLC before settling on Chicago-based R.J. O'Brien.
Spokesmen for Marex, Knight and MF Global, as well as the software providers either declined to comment or didn't immediately return phone messages.
R.J. O'Brien cooperated with the investigation and "had no involvement whatsoever" with Sarao or his company at the time of the flash crash, Ellen Resnick, an outside spokeswoman, said in an e-mailed statement.
In 2007, Sarao wrote to the founder of the company that published Trader Monthly, asking how he might be included on their list of 30 distinguished traders under the age of 30. He told the publication he made between $45,000 and $133,000 each day.
"You must understand that for me to be in the top 30 is not a vanity thing," Sarao wrote. He said that while he normally preferred a low profile he was looking to set up a new trading business and the publicity might help.
Stashed Profits
Sarao made $40 million manipulating futures tied to the Standard & Poor's 500 Index, including about $900,000 on the day of the flash crash, according to authorities. A CFTC investigator said most of Sarao's profits were stashed in a variety of offshore vehicles and business ventures. One of his companies, based in Anguilla, had $17 million in a Swiss bank account, a document released by the CFTC shows.
At a bail hearing Wednesday, his lawyer said Sarao has 5 million pounds ($7.5 million) in trading accounts, 4.7 million pounds of which is a loan, and 100,000 pounds in "numerous betting accounts."
While seeking explanations from brokers at R.J. O'Brien in October 2012 on why his system was so slow, Sarao's frequent e-mails to two brokers throughout the weekend caused one to ask whether he ever slept.
"I normally can't get to sleep before 4 a.m., which isn't a problem because U.S. trading opens at 2:30 p.m. here," Sarao responded in an e-mail sent at 2:51 a.m.
"I have made the majority of my net worth in, I would say, no more than 20 days of trading. That's how I trade -- mostly I hardly work but when it's volatile I have to work 12 hours a day," he wrote.
Before it's here, it's on the Bloomberg Terminal.
LEARN MORE