The Changing Faces of Tech Exuberance
Move over Pets.com—this time it's Clinkle
by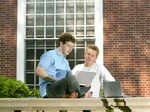 The Nasdaq has just passed the record it set 15 years ago, on March 10, 2000, before plummeting 78 percent when the Internet bubble burst.
Back then, Mark Zuckerberg was in high school and the tech boom was fueled by companies that were dubbed "The Four Horsemen of the New Economy"—Sun Microsystems, Oracle, Cisco Systems, and EMC. This time, the tech sector is riding on the backs of such companies as Facebook, Amazon.com, Google, and Apple, a struggling computer maker in 2000 that has since transformed itself into the world's most valuable company.
And while some things seem eerily similar to 2000—venture capital is flowing again and tech companies are plying workers with free food, booze, massages, and splashy parties to keep them from leaving—the faces of this tech boom are mostly different.
Here's a look at the personalities and companies behind the tech exuberance then and now. Here's hoping this time has a much happier ending.
Heading the Hottest IPO

Then: Carl Yankowski dressed for success during Palm's initial public offering. On the day that shares of the personal digital assistant maker began trading, the chief executive reportedly wore a pinstriped suit embroidered with threads of real gold. Gaudy? Yes. But his garb matched the occasion: Palm raised $874 million ($1.2 billion in today's dollars), making it the biggest tech IPO in the runup to the Nasdaq's record high. Yankowski, a former Sony executive who joined just months before the IPO, left the company less than two years later.
Now: $1.2 billion? Don't make Alibaba founder Jack Ma laugh. In September, the Chinese e-commerce giant raised a record $25 billion in its IPO (he wore a plain dark suit on the first day of trading). The company's market cap is now above Amazon's, and Ma is ranked among the 20 richest people in the world.
The Hottest Startup Chief

Then: Sergey Brin and Larry Page were graduate students at Stanford University when they founded Google in 1998 with $100,000 in funding from Sun Microsystems co-founder Andy Bechtolsheim. The following year, the search engine caught the attention of Kleiner Perkins Caufield & Byers and Sequoia Capital—two of the biggest venture capital firms—which put in $25 million. They made billions of dollars from that investment.
Now: Travis Kalanick runs car-booking and taxi replacement startup Uber, a company whose $40 billion valuation is the highest for a U.S. startup. Kalanick, who just raised $1.2 billion in financing in December, is now finishing up raising another $1 billion in funding. Coincidentally, one of Uber's biggest investors is Google, which led a $258 million investment in the hot startup. That relationship, however, is starting to look more adversarial. 
The Biggest Startup Nonstarter 

Then: Pity the sock puppet. Pets.com became the poster child (poster puppet?) for the dot-com boom and bust after the startup quickly raised $110 million in funding, went public, and then shut down over the span of roughly two years. Not even having Amazon as a backer and Merrill Lynch as an underwriter could save the company. CEO Julie Wainwright emerged from the wreckage and went on to be founder and CEO of a luxury consignment company, the RealReal.
Now: Clinkle has also been a clunker, so far. The mobile payments app that raised $25 million from high-profile investors, such as Peter Thiel, in 2013 burned a great deal of that money a year later with no sales and no public sightings of the app. During that time, the company, founded by Lucas Duplan, held pirate dress-up days at work and a night of carousing on a party bus stocked with booze. As Bloomberg's Adam Satariano wrote, "everything about Clinkle seems right out of Silicon Valley central casting." The app has finally seen the light of day, but it has pivoted from a grand vision of a payment product to a reward system built around a debit card, as TechCrunch reported in January.
The Inventor

Then: "Golden geek" Marc Andreessen helped bring the Internet to the masses by co-authoring Mosaic, the first widely used Web browser. Netscape, the company he co-founded, also sparked the dot-com boom with its initial public offering in 1995. Shares ended the first day of trading up a startling 108 percent.
Now: 21st century industrialist Elon Musk is racing to bring electric cars to the masses with Tesla and make space travel more accessible with SpaceX. In his spare time, the PayPal co-founder is also chairman of solar-panel company SolarCity and wants to build a high-speed mass transit system called Hyperloop.
The Mobile God

Then: In 2000, Nokia was the world's biggest cellphone maker and Europe's most valuable company. Headed by Jorma Ollila, Nokia in February 2000 announced a 4-for-1 stock split, the second split in 11 months, during which time the stock had more than tripled in value. 
Now: Apple may not have the biggest share of the smartphone market—that distinction belongs to Google's Android—but Tim Cook's company is the one raking in the dough on its mobile devices. The company posted a record profit of $18 billion for the first quarter and has built up a massive $178 billion cash pile. As for Nokia? With its market share plummeting to the single digits, Nokia sold its handset business to Microsoft after betting on that company's Windows Phone.
The Most Popular VC

Then: If your startup was in need of venture capital, Kleiner Perkins Caulfield & Byers was the firm you wanted backing you, and General Partner John Doerr was the guy you wanted on your board. Kleiner was an early investor in such companies as Amazon, AOL, Google, and Netscape. Doerr joined the boards of the last two, plus Martha Stewart Living and Drugstore.com.
Now: Today it's Netscape co-founder Marc Andreessen who's at the top of the list for many startups. His firm, Andreessen Horowitz, counts Twitter, Airbnb, Lyft, and Pinterest as investments. Andreessen himself serves on the boards of Facebook and Hewlett-Packard. As for Doerr, he recently had to defend Kleiner Perkins against allegations of gender discrimination made by his former chief of staff, Ellen Pao. While the jury ruled against her on all counts, the trial became a flash point in the discussion about how women are treated in Silicon Valley.
The All-Star Analyst

Then: In 1998, CIBC Oppenheimer analyst Henry Blodget hit it big when he predicted Amazon shares would reach $400 within a year—they did so in a month. Blodget rode the wave of publicity to a bigger job at Merrill Lynch and the No. 1 rating for Internet analysts in Institutional Investor's annual ranking. Then it all came crashing down. He wound up barred for life from the securities industry and paid $4 million in 2003 to settle allegations he published "materially misleading" research. He resurrected his career as CEO and editor-in-chief of Business Insider and raised funding from the likes of Jeff Bezos.
Now: While many talented folk still ply their trade in stock picking, the age of the highly compensated rock-star analyst ended with the fines for Blodget and Citigroup's telecom analyst, Jack Grubman. 
King of E-commerce

Then: Amazon was the planet's biggest e-commerce vendor by revenue.
Now: What's changed? Nothing, except that Bezos, the company's CEO, has also made Amazon the biggest cloud infrastructure services company and is trying to expand into home and mobile devices.
Captain of the Enterprise

Then: Scott McNealy's Sun Microsystems was the fastest-growing seller of servers, and his company's sales were rising faster than those of Microsoft, Intel, and Dell. The company's growth mirrored that of Internet companies as they stocked up on pricey Sun servers, as well as on databases from Oracle, which was led by his partner-in-crime, Larry Ellison. When the crash came, so did the reckoning for Sun. In 2006, McNealy stepped down as CEO, and in 2010, Oracle bought the company.
Now: Marc Benioff, once a protégé of Ellison, has expanded Salesforce.com into the world's largest cloud enterprise software company. The cloud is now regarded as the future of the market.
The Competition Crusher

Then: It was in 2000 that Microsoft, under newly appointed CEO Steve Ballmer, was found by a U.S. district court judge to have illegally tried to extend its Windows monopoly and was ordered to be broken up.
Now: The world's largest software maker has moved past its antitrust woes in the U.S. and Europe (though not in China), and now it's Google that's in the hot seat. The European Union has accused the Internet giant of abusing its dominance of the search-engine market and started a new investigation into its Android mobile-phone software.
Comeback Story

Then: For a salary of $1, Steve Jobs returned to Apple in 1997 to resuscitate the company he co-founded. It was quite the task, with Apple losing money and being forced to turn to archrival Bill Gates's Microsoft for an investment to stay afloat. By early 2000, sales and market share were increasing again, thanks to the iMac, and Jobs had dropped the word "interim" from his CEO title. Few would have predicted the massive successes that followed and the way Jobs turned the tables on Microsoft.
Now: For the magnitude of the challenge and the uncertainty of the outcome, one need only look to Marissa Mayer's Yahoo for the comeback story everyone is watching now. Whether the ex-Googler who joined the ailing Yahoo in 2012 will achieve even a fraction of the success that Jobs attained is an open question. Sales at Yahoo are roughly the same as they were when Mayer took over, but she does have one important thing going for her: Yahoo's stake in Alibaba, which will be spun off into a new firm.   
Before it's here, it's on the Bloomberg Terminal.
LEARN MORE