Sweden's Debt Headache Grows More Painful as Court Blocks Curbs
Amanda Billner and Johan Carlstrom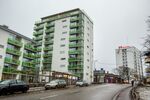 Sweden's central bank abandoned its efforts to cool household debt growth and the financial regulator's plan was killed by a court. That's left the new government with the responsibility of coming up with an answer no matter how unpalatable it may be for voters.
Finance Minister Magdalena Andersson said on Thursday there's a need for broad talks in parliament to address Sweden's household debt headache. Measures could include lowering tax deductions on interest payments, a step that's likely to be unpopular with voters. So far, most politicians, including Andersson, are rejecting such a move even as the subsidy cost could almost double by 2019.
The government was left holding Sweden's macroprudential hot potato after the Financial Supervisory Authority dropped a plan to force Swedes to pay down their home loans faster after a key court said the proposal could be illegal.
"It's central that we have talks with the right-wing parties, because we need stable conditions," Andersson said in an interview after a speech in Stockholm. "It's important that everyone takes responsibility in this area."
Clearer Mandate
The watchdog said the government now needs to act. It's seeking to protect the economy after household debt rose to a record as home prices surged over the past decade. It has previously capped mortgage lending at 85 percent of property values and raised bank capital requirements.
Its preference is for tools that affect households directly over using measures such as raising banks' capital requirements, already among the world's highest. It also doesn't want to lower a cap introduced in 2010.
"The government and parliament must give us a clearer mandate," acting Director-General Martin Noreus said, backed up by both the central bank and debt office. "But the government and parliament can also deal with this in other ways, there are also other tools."
"The FSA still thinks the amortization requirement is relevant, but we also need to look at other alternatives," including the mortgage deductions, Financial Markets Minister Per Bolund told reporters. "If changes are to be made to mortgage interest deduction, it needs to be done at a slow pace that households can handle."
'Strong Feeling'
Bolund said there's "a strong feeling of responsibility" among parties in parliament.
Ulf Kristersson, economic spokesman for the opposition Moderates, the biggest opposition party, said the only context in which they would be prepared to discuss paring mortgage deductions would be in talks on a broader tax and housing market overhaul.
The natural thing now would be that the FSA "goes ahead with the tools available to them, and that they express the same thing but in the form of a recommendation or general advice," he said by telephone.
Housing prices have soared in recent years amid a lack of supply and as low rates and population growth have fueled demand. The central bank, which dropped its focus on household debt last year to bring up inflation, cut its key rate to minus 0.25 percent last month and is buying government bonds in an effort to stimulate growth and inflation.
The country's banks were also taken aback by the regulator's failure.
"It's unfortunate that there will be further insecurity regarding amortization," Johan Hansing, chief economist at the Swedish Bankers' Association, said by e-mail.
According to Knut Hallberg, an analyst at Swedbank AB, there's hope that lawmakers will finally do something about the debt and housing market situation.
"It was an embarrassing, and a bit of a humiliating set-back, for the entire macro-prudential supervision and it highlights the failure of politicians who have been aware of this development for several years," he said. "It's important that they act swiftly. That they take this seriously."
Before it's here, it's on the Bloomberg Terminal.
LEARN MORE