Small to Big: Minute Key
How Randall Fagundo's key-cutting business unlocked growth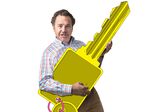 Manually copied keys can fail when it comes to opening locks and as business propositions, says Randall Fagundo. "Retailers tell me it's a little-or-no-profit business because of the return rates," he says—10 percent to 15 percent of the keys don't work. Minute Key, where Fagundo is chief executive officer, takes people out of the key-cutting process with a machine created by brothers Ari and Dani Freeman in 2008. Customers put a key into the machine, which cuts a copy and then dispenses it. Fagundo, co-founder of American Coin Merchandising, a maker of amusement vending machines bought by Coinstar for $235 million in 2004, was hired in 2010. His relationships with retailers such as BJ's Wholesale Club, Safeway, and Wal-Mart Stores helped persuade the chains to install Minute Key machines. A return rate of about 0.4 percent has kept them there. "That makes the retailers very happy," he says.
If you put a piece of equipment in a big-box retailer and it doesn't work, or people are having problems, the local store manager will say, "Get this thing out of here, we don't want the headache." We were delayed 6 to 12 months deploying the first machines because they had to work, and they had to work well.

You can't just go into a store and drop the machine off and walk away. Training is important—store personnel need to be able to direct customers to the machine, and they should know how the machine works. We do a lot of in-store training.
The machine itself is very intelligent. You can put cell cards in it, and it communicates back to us. Ninety percent of what goes wrong with the machine, we can fix remotely. The machines have a camera in them. If a key gets stuck, a customer will call us; we'll turn the camera on and work to eject it. The camera allowed us to expand quickly, without having to hire lots of support people in the field.
There's a window in the machine, and you can see how the keys are made. We had a lot of debate about that, because we have a lot of intellectual property in the machine. But we hadn't factored in the entertainment aspect—watching the machine operate is fun for people, especially kids.
We made a dog key, which I thought was kind of weird at first—who wants a key shaped like a dog? It's turned out to be one of our best-selling keys. —As told to Dimitra Kessenides
Before it's here, it's on the Bloomberg Terminal.
LEARN MORE