Small Business Finds Its Voice on Free Trade
Companies are lining up in support of Obama's agenda
By and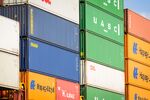 Ross Bernard started American Nettings & Fabric in the early 1980s and now employs six people in Ferndale, a small town in Washington state that's a 15-minute drive from the Canadian border. Bernard is a Canadian citizen, but he set up his business in the U.S. so he could exploit its 14 free-trade agreements. He expects 80 percent of his $3 million in sales this year to go abroad, much of it to Latin American fruit growers who use his plastic netting to protect their produce from hungry birds. American Nettings' only other office is in Peru, which in 2006 inked an agreement with the U.S. that scrapped the 15 percent tariff the South American country once levied on U.S. imports. Says Bernard: "Our customers follow these free-trade deals."
Multinationals including Boeing, Caterpillar, and Microsoft have long dominated the ranks of American businesses lobbying for freer trade. This year they're being joined by people like Bernard. Since the recession, small businesses have increasingly sought customers overseas. In 2006 small and midsize exporters accounted for 28.9 percent of sales by U.S. companies abroad; in 2013 that figure was 33.6 percent. These companies are making their voices heard in the debate over trade policy that kicked off in earnest on April 16, when a group of Republican and Democratic lawmakers introduced a bill to grant President Obama authority to negotiate a trade and investment treaty encompassing a dozen Asia-Pacific nations.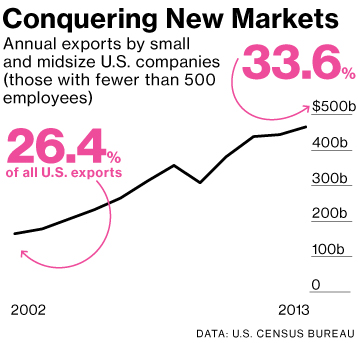 Bernard is urging his congressional representative, Suzan DelBene, a Democrat, to vote for the fast-track bill. The National Small Business Association, a lobbying group in Washington, has also come out in favor of the legislation.
"It's very hard to find effective mobilizations of small business on anything, but particularly on trade," says Susan Schwab, who was U.S. trade representative from 2006 to 2009. She recalls that as the debate on trade became more polarized in the 1990s, opponents argued that the benefits of deals such as the North American Free Trade Agreement accrued to big business, while smaller companies were at risk of being engulfed by cheap imports.
Some American multinationals are encouraging their suppliers to speak up. Cummins, a maker of powerful engines, leads a coalition of businesses pushing for more trade pacts. Among its members is Ice Industries, a Sylvania (Ohio) supplier of metal parts to the auto and appliance industries with 450 workers in the U.S. Its founder and chief executive officer traveled to Washington in March to lobby members of Congress to give Obama trade negotiating authority. In a March 4 editorial published in the political newspaper The Hill, Howard Ice argued, "Opponents claim that big-name corporations are pushing new trade deals that will benefit them but hurt U.S. workers. The problem with that talking point: It's wrong."
Online marketplaces such as EBay and Etsy have also helped knit diverse small businesses into a more coherent political voice. EBay brought a group of sellers to Washington from April 22-23 to lobby their members of Congress in support of the trade bill. "The anecdotes tell us that global sales have been key to these businesses and their growth," says Caitlin Brosseau, a lobbyist for the company. About 95 percent of U.S. merchants on EBay sell abroad, according to Brosseau. In Jan. 29 testimony to Congress, U.S. Trade Representative Michael Froman said merchants on Etsy stand to benefit from many concessions the U.S. is seeking from Asian nations in negotiations for the Trans-Pacific Partnership. Althea Erickson, Etsy's public policy director, said in an e-mail that "many of our sellers operate global businesses, but they encounter significant barriers when shipping goods across borders."
Obama faces an uphill battle to win the authority from Congress to conclude new trade deals, with opponents arguing that previous ones let U.S. businesses move jobs overseas. That hasn't been Bernard's experience, though. Just as growers south of the Equator wrap up their harvest, his U.S. customers need their nets. Without the free-trade deals, business would be dead for half the year. Says Bernard: "We now work in two growing seasons, here and in Latin America."
The bottom line: Small businesses have a growing stake in the trade debate, thanks to a big jump in their exports since 2007.
Before it's here, it's on the Bloomberg Terminal.
LEARN MORE