The Widening World of Whiskey
Six delicious bottles to threaten Scotland's single-malt monopoly
By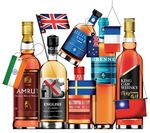 India
Amrut Intermediate Sherry Matured
57 percent ABV, $120
Blame the odd name on the distillers' novel technique: They move the whiskey from ex-bourbon barrels to sherry casks and then back, in an effort to integrate figgy sherry notes. It's good on ice with a splash of water, which opens up the dried fruit and spice flavors.
England
English Whisky Co. Classic
46 percent ABV, $70
The first whisky to be produced in England in a century is distilled by a Norfolk family with 600 years of experience in the grain business. Fresh, malty, and citrusy, with a little salt and smoke, this is an everyday bottle that's not too strong to drink neat.
Australia
Sullivans Cove French Oak
48 percent ABV, $225
Basically a whiskey that thinks it's a rum, this has a burly backbone that makes it best for sipping slowly. It gets its molasses character from sitting in port casks for 12 to 14 years on the island of Tasmania, where it's bottled. Try it in place of dessert.
Sweden
Mackmyra First Edition
46 percent ABV, $60
This gentle, honey-toned liquor is aged below ground in abandoned mines, in casks of oak originally intended for building 19th century Swedish warships. Everything but the yeast comes from within a 75-mile radius of the distillery.
France
Brenne French Single Malt
40 percent ABV, $67
If you usually drink white wine, this light liquor may be a good departure. It's made by a third-generation cognac producer who borrowed production techniques from brandy: Aging in new Limousin oak and cognac barrels lends it a sweet fruitiness.
Taiwan
Kavalan King Car Conductor
46 percent ABV, $120
This recent release from the Asian island's first whiskey distillery is known to contain juice from no fewer than eight different types of cask. The result is a rich, complex spirit with vanilla and tropical fruit notes that officially puts Taiwan on the map.
Before it's here, it's on the Bloomberg Terminal.
LEARN MORE