Sheryl Sandberg Wants to See Hillary Clinton in the White House
The Facebook COO has also recently donated to California Attorney General Kamala Harris' Senate campaign.
By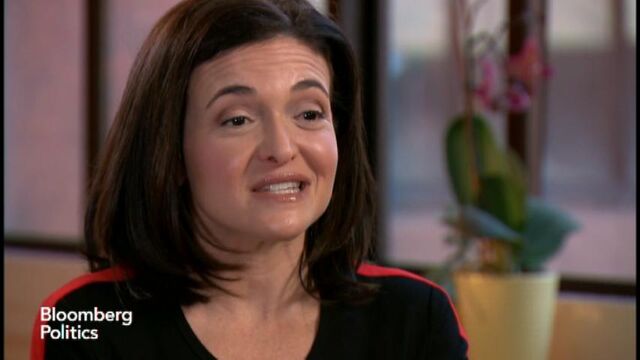 Sheryl Sandberg, the Chief Operating Officer of Facebook, whose 2013 book Lean In: Women, Work, and the Will to Lead helped ignite a new chapter in the national conversation on female leadership and so-called work/family balance, has thrown her support behind Hillary Rodham Clinton, the former secretary of state who earlier this month announced that she is seeking the Democratic presidential nomination. 
With a laugh, speaking to Bloomberg Television's Emily Chang at a Virgin Disruptors Event Thursday in San Francisco, Sandberg said, "I think politicians are the people that endorse. But," she continued, "I am very supportive of Hillary Clinton. I've said before I'd like to see her as president. And I'd like to see more women presidents all over the world."
Sandberg's book, the title of which fast pervaded the lexicon, made her something of a bellwether for feminists. Critics accused her of focusing on strategies individual women could take to get ahead at large corporations, at the expense of acknowledging sexism throughout society. But more than anything, in Lean In and its correspondent campaigns, Sandberg has argued for the importance of female representation at every level in creating a more equitable society. 
Bloomberg reported on Wednesday that Sheryl Sandberg contributed to the 2016 U.S. Senate Campaign of California Attorney General Kamala Harris.
Sandberg met with Clinton in February, the day that the presumed presidential frontrunner spoke at Silicon Valley conference for women and delivered a ringing message of gender equality that put some in mind of Sandberg's book. Sandberg worked for Clinton's husband, President Bill Clinton, as chief of staff to Secretary of the Treasury Larry Summers.