Scott Walker Once Gave Jeb Bush's Brother Campaign Advice
A memo the Wisconsin governor wrote in 2000 provides insight into his strategic thinking and national aspirations.
By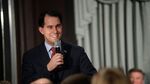 It's unknown how long Scott Walker has been thinking about running for president. What is clear is that he has felt he has the political wisdom to advise a national campaign since at least 2000, when he was just a member of the Wisconsin Assembly.