Novartis Reports First-Quarter Profit That Beats Estimates
Simeon Bennett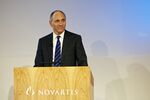 Novartis AG, the world's biggest drugmaker by sales, reported first-quarter profit that beat analysts' estimates as the company begins to benefit from a set of transactions that make it smaller and more profitable.
Core operating income was $3.55 billion, Basel, Switzerland-based Novartis said in a statement on Thursday, exceeding the $3.17 billion average of eight estimates compiled by Bloomberg. Core operating income for the businesses Novartis is keeping climbed 9 percent in the quarter to $3.65 billion.
Novartis on March 2 completed the biggest step in a three-way asset swap valued at about $30 billion that Chief Executive Officer Joe Jimenez has said makes the drugmaker instantly more profitable. The company is now hunting for bolt-on acquisitions of $2 billion to $5 billion each, Jimenez said today.
"We've put our M&A people back to work," though the company isn't looking for a huge transaction, Jimenez told reporters on a conference call.
Novartis shares rose as much as 2.5 percent and were up 1.2 percent at 101.40 Swiss francs at 9:47 a.m. The stock has advanced about 37 percent in the past year, including reinvested dividends, compared with a 44 percent gain for the 19-member Bloomberg Europe Pharmaceutical Index.
The company needs new products such as LCZ696, a heart-failure drug for which regulatory approval is likely this year, to propel growth as older treatments that make up a fifth of sales lose patent protection. Novartis reiterated its full-year forecast for core operating profit to grow by a high-single digit percentage and sales to expand at a mid-single digit rate, excluding currency fluctuations.
Asset Swap
"Given the excellent start to the year, it is perhaps surprising that the core operating income guidance has not been raised," Alistair Campbell, an analyst at Berenberg in London, wrote in a note today. "Perhaps Novartis is holding fire until it has a better grip on the new business structure."
The company last month wrapped up a deal with GlaxoSmithKline Plc in which it sold its vaccines business to the London-based drugmaker, bought Glaxo's suite of cancer drugs and formed a joint venture to sell consumer health-care products. Novartis closed a deal in January to sell its animal health business to Eli Lilly & Co.
The strengthening of the U.S. dollar stripped 10 percent from sales in continuing operations and 13 percent from core operating income in the quarter, and the same impact will occur for the year if exchange rates in early April persist, Novartis said. The company had predicted in January that the effect on core operating income for 2015 would be about 12 percent.
For continuing operations, the margin on core operating income widened to 30.6 percent of net sales in the quarter, up 1.7 percentage points in constant currency terms from a year earlier.
Net sales in the pharmaceutical division climbed 1 percent to $7.1 billion as revenue lost due to competition from generics in the U.S. was offset by a 25 percent expansion in sales of products such as Gilenya and Afinitor, Novartis said. The oncology assets bought from Glaxo also contributed $200 million in March.
Alcon sales climbed 5 percent to $2.6 billion in the first quarter, while revenue in the generics business, Sandoz, climbed 9 percent to $2.2 billion.
Before it's here, it's on the Bloomberg Terminal.
LEARN MORE